Life is about to get a little crazy for a Texas couple!  On March 18th Steven and Michelle Seals of Maud, Texas welcomed a set of quintuplets at at Baylor University Medical Center in Dallas.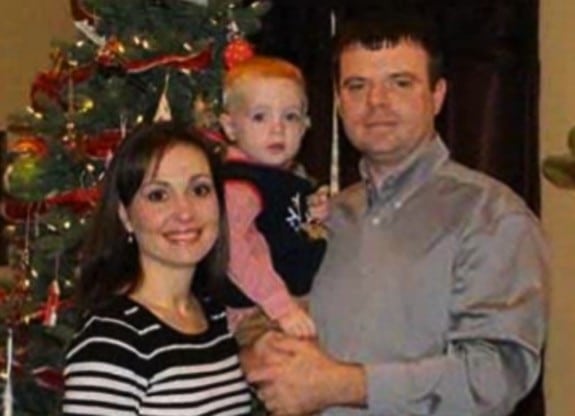 Born at 29 weeks gestation, the 4 girls and one boy weighed between 2 pounds, 8 ounces to 3 pounds, 6 ounces.  Mia, Tessa, Brant, Gracie and Rayleigh are now being cared for in the hospital's Neonatal Intensive Care Unit so they can grow and get stronger.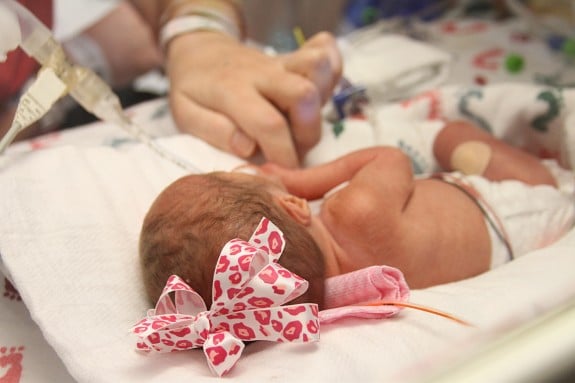 Michelle had experienced three miscarriages before she conceived her older son Brady and doctors believed that she was not developing mature eggs. After fertility treatments, the couple knew multiples were a possibility for this pregnancy.
"We thought maybe twins, never five," Michelle said.
The medication she took carried a ten percent chance of twins, but instead she became pregnant with six!
"We went from two to four and then there were six, and then one didn't make it.  Then we went down to five.  We were in shock.  I don't even know if there are words to express how we felt, she revealed during a news conference Thursday."
During her pregnancy Michelle experienced morning sickness for 14 weeks, and was placed on bed rest at home before arriving at Baylor in her 23 week of pregnancy.
In total 27 medical staff were present at the babies' delivery including; two obstetricians, four labor and delivery nurses, one anesthesiologist, two certified registered nurse anesthetists, six NICU nurses, seven neonatologists, and five respiratory therapists.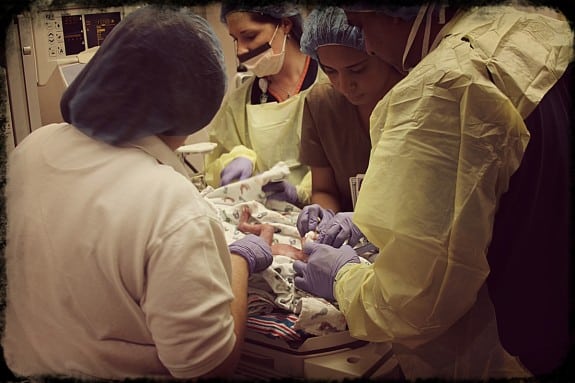 The Seal Quints are the first set of five born at Baylor University Medical Center in Dallas during its 110-year history.
Mia weighed 2 pounds 10 ounces
Tessa 2 pounds 14 ounces
Gracie 2 pounds 7 ounces
Rayleigh 2 pounds 8 ounces
Brant 3 pounds 6 ounces
"They're so precious," the new mom told reporters. "They're tiny, and I just love it. I thought I'd be scared because of all of the machines, but I just love it. I can't wait to get my hands on them."
The babies have had some breast milk from a tube feeding, and all of them but Mia will be taken off their ventilators soon.  They are expected to stay in the NICU for 7 to 8 weeks.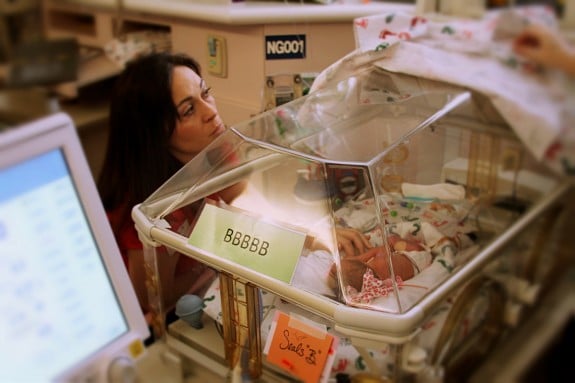 "I'm just ready for all eight of us to be home. Ready to start our life," Michelle told Today.com
And while the couple is excited for what is ahead they note that 2-year-old Brady is unaware of the chaos that is about to hit when the babies are released.
"He doesn't have a clue what is coming his way … but I think he's going to be a great big brother," Michelle said.
One thing is for sure – he'll never have to worry about not having anyone to play with!
---
[ad]