Tis the season for fundraising. Government funding is down so schools need to get creative to top up their budget. Dance-a-tons, chocolate sales and bake sales – they're all lined up, but do you really have the time? I personally hate hitting up our friends and family for donations and sales. Judging from a letter from a Texas school, I'm not alone…
Dee Wise Heinz says her 12-year-old daughter brought the letter home Tuesday, her second day as a 7th-grade student at a Dallas-area middle school.
"My first thought was, 'A fundraiser already?'" The mom of 3 told ABC News. "But after reading it, my husband and I got such a chuckle out of it and we thought it was so refreshing."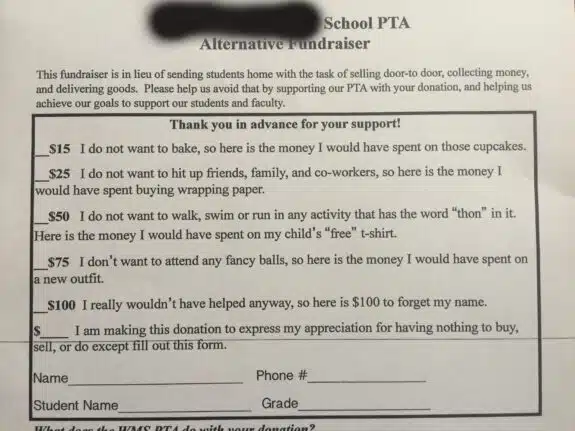 Time equals money for some parents, and the school knows that.  So rather than you spend 4 hours baking 10 batches of cookies for a sale, you can just send $15 and call it a day.
You don't want 6 more rolls of wrapping paper and neither does anyone else in your family?  You can play $25 and hit the dollar store at Xmas.  Not interested in the walk-a-thon, dance-a-thon or read-a-thon?  $50 clears your schedule!
The Heinz family in new to the district, but the school's PTA told Dee that the clever fundraiser 'opt-out' form had been a big success for the past 3 years.
"There have been a few critics saying if you do this, you don't have an interest in supporting your child," Dee said. "That's not the case."
Adding,
"I don't want to diminish the value of fundraisers, but time is a valuable resource also, so I appreciated having the option.  With three kids, there's never just one fundraiser and they're never just that simple, so it does take a lot more time than you realize."
Apparently many, many other parents are in favor of this idea because this form has been shared more than 200,000 times on Dee's personal Facebook Page.
As the parent of 2 elementary school kids, I would love to just write a cheque and bypass all of the begging.  Do you agree?
---