Just like his older sister, Liam Cerda was born with a rare genetic condition called Megacystis Microcolon Intestinal Hypoperistalsis Syndrome (MMIHS), or Berdon Syndrome, which is characterized by malformed colon and bladder that causes digestive problems. This meant that the toddler could only be fed intravenously.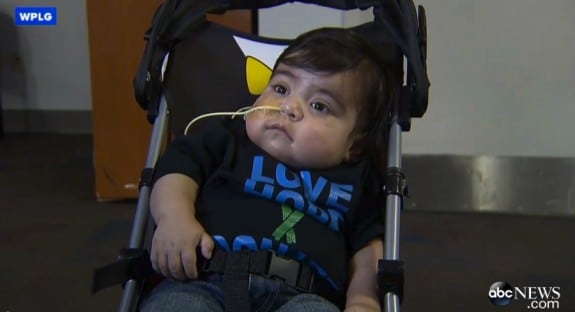 After going through a very similar process with their daughter 5 years ago, the Cerda's insisted Liam be treated at Jackson Memorial in Miami, the same hospital which had saved their daughter's life in 2011.
There was just one difference. During her treatment, Delilah underwent a seven-organ transplant involving her liver, pancreas, stomach, large intestine, small intestine, kidney and spleen. Liam would also need both kidneys transplanted.
The baby was placed on the transplant list in January, and on February 23rd, doctors were able to perform the surgery with organs from one donor.
Now, just weeks after the surgery, his mother, Julissa Cerda, said the toddler is doing well and eating real food for the first time.
"Liam is doing very, very good. After his transplant, he hasn't had any issues about feeding," Julissa told ABC News today. "It's the first time he's eaten through the mouth. He's eating baby food right now."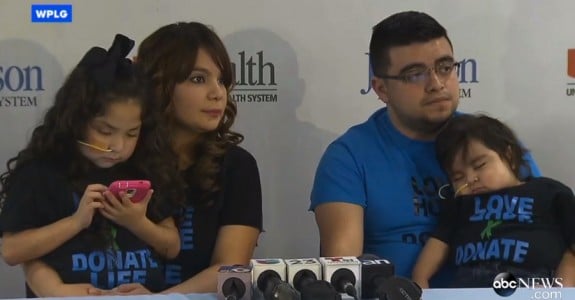 Immediately after the surgery, Julissa said she could see a big difference in her son's demeanor.
"About a week after transplant, he was taken off sedation he was ready to get up and play," she said. "He was sitting up and getting on his walker. … He's a very playful, happy baby."
His sister, she said, has been his biggest protector.
"She's only 6 years old and you would be very surprised how well she takes care of him. She's very cautious and washes her hands and wears a mask."
Liam is now well enough he is expected to go home this week.
---
[ad]