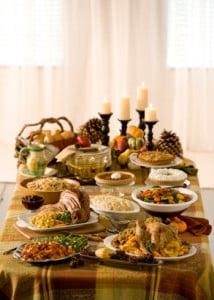 Thanksgiving is a time for families to come together. The traditional Thanksgiving dinner is a classic part of the holiday that most families continue to do. If there are young infants and toddlers at your table this year, making sure there are safe foods at the table will let them join in the festivities too.
For babies and toddlers, soft finger foods are the ideal staples that should be readily available. Foods such as cooked green beans, peas and carrots are great vegetables that can be easily snacked on by young children. Soft foods such as mashed potatoes and sweet potatoes are also great choices as well as dinner rolls and biscuits, that are soft and can be torn into pieces to be given to a young child to enjoy.
If you are serving a turkey or ham for Thanksgiving, there are a few tips for adding meat to your child's dinner plate. Avoid areas where small, soft bones may be in the meat. These can become easily lodged in a small child's throat and can cause them to choke. Small bones sometimes soften when cooked, which can make them easier for adults to ignore but can cause a hazard for infants and toddlers. If you have an infant in the home, remember that the motor skills needed to chew meat often do not develop until around 10 months.

With a wide array of delicious foods at the table, parents may be tempted to let their infant or toddler try a little of everything. However, there are some foods to avoid. Rich, creamy casseroles and soups can sometimes overdo a young stomach. Overly spiced and seasoned dishes can be too strong for a younger child. This also included foods with strong flavors, such as onions and garlic. If you have a younger infant, avoid foods with milk, cheese, and peanuts if possible.
Thanksgiving can be a great time of coming together with your family. If you plan to be sitting down at the dinner table this year with a young child, think about what foods will and will not be appropriate for your child to eat. Using these simple, basic tips will make sure that everyone gets to eat something they will love this year. – Summer, staff writer
Related Articles:
---
[ad]