The other day I posted an article on many different stacking toys to help develop cognitive, gross motor and problem-solving skills.
Today, I came across this article that has found that good old fashioned blocks may make their toddlers smarter.
Children who played with blocks scored on average 15 percent higher on language tests — an early indicator of cognitive development — than their peers who didn't get a chance to stack and pile, according to research released Monday by the Seattle Children's Hospital Research Institute.
"Many toys make claims they are actually educational for kids," said Dr. Dimitri Christakis, who led the study. "The interesting thing is that things like blocks never made such claims."
Playing with the blocks stimulates a child's imagination – and encourages them to spend less time watching TV.
Here are four benefits for using good old-fashioned blocks as a first toy for babies: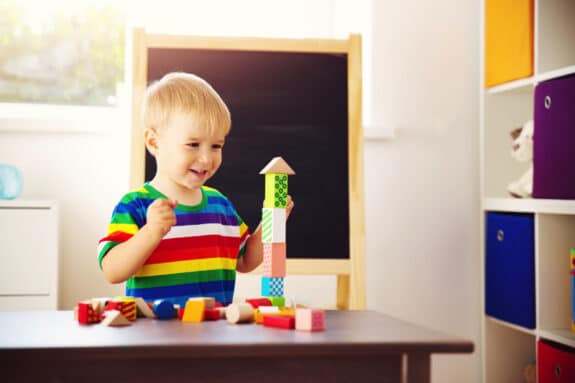 Strengthens Cognitive Skills

Stacking blocks forces kids to kick into troubleshooting mode.  They need to plan how to stack and experiment with different ways to make it happen.

Fine motor Skills

Being able to pick up the blocks and hold them in their hands improves fine motor skills.  The shape of the block also makes it so that toddlers will need to hold it a certain way so it will fit in their hand comfortably.

Hand Eye Co-ordination

Being able to stack the blocks on top of each other requires your child to be able to coordinate what they see with where they need to be.  Modeling hand over hand will help them understand how to stack but let them fail until they get it.  And then celebrate when they get it right!

Math and vocabulary skills

As your child learns how to stack they will start to process the increase in numbers which helps increase their math skills.
Tips:
Start with blocks that connect together easily and then move to classic wooden blocks or even wooden toys that offering stacking tasks with animals or shapes.  Nesting cups are great too because they make it so kids need to plan how to stack in a way they aren't used to.
After your child masters the art of stacking have them model a pattern you have created ie. 3 blocks on the bottom, 2 blocks on top and then add a block on top to have them continue learning how to implement what they see. This further increases their math skills because they will them start to understand numbers and the differences between 2 and 3.
They can also then learn to sort the blocks into different colors or shapes.
The benefits of block building extends long after kids are toddlers.  So many brands have introduced creative building solutions for kids of all ages and it's a favorite passtime for my boys.  Nothing is better than watching 4 or 5 neighbourhood kids sit out on the patio with a box of classic legos and a board.
Related Articles: