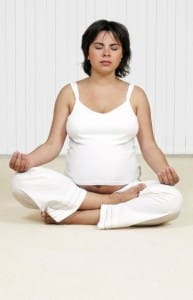 Yoga focuses on the mind, body and spirit. It is considered therapeutic and helps you become aware of your posture and alignment.
Practicing yoga while pregnant has many benefits for mom and baby. It improves posture, flexibility, circulation, balance, coordination, body image; strengthens abdominal core, low back, upper body (for carrying babies) and pelvic floor muscles; relieves muscle tension, breathlessness, backache, and stress. Yoga improves a new mother's overall health.
In Toronto, Baby & Me Fitness offers pre and postnatal yoga for moms who want to stay fit and also stay connected to their bodies. Skylar Hill-Jackson, Founder and Co-Director has been leading pre and postnatal fitness classes for 20 years.
Baby & Me Fitness offers a comfortable and supportive environment for new moms who may be experiencing feelings of isolation, feelings of being overwhelmed by the demands of a new baby, and on top of probably having body image issues. They believe in attachment parenting so the babies are close to their moms throughout the class.
Yoga babies is a class that the baby is able to participate in as well. It is for babies aged 4 weeks to crawling. The baby stays connected to mom throughout the class with constant touching and affection.
If you are able to enjoy the full year maternity leave, these classes are something that can provide some much needed socialization for mom and baby. Each class is followed by a 30 minute discussion on various parenting topics.
---
[ad]