The Duke & Duchess of Cambridge, Catherine Middleton and Prince William were photographed at a St Patrick's Day parade by the 1st Battalion Irish Guards in Aldershot, UK on Sunday.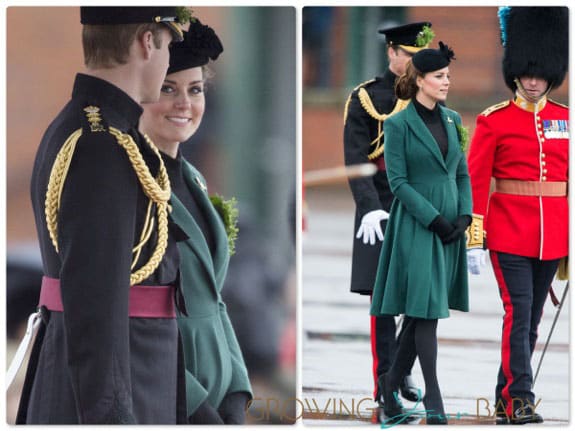 Kate, who is five months pregnant, looked beautiful in an emerald Emilia Wickstead coat with a black dress and John Lock 'Fairy Tale' hat.  Both pieces are favorites of Kate's and she has been spotted in them many times.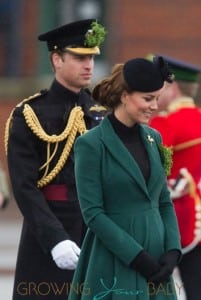 After they handed out sprigs of Shamrocks, the royal couple chatted to soldiers in the Guardsmens' cookhouse, where Kate revealed she is hoping for a prince.
Guardsman Lee Wheeler, 29, told the media,
"I was talking to her about the baby, of course. I asked her 'do you know if it's a girl or boy', and she said 'not yet'.

"She said 'I'd like to have a boy and William would like a girl'. I asked her if she had any names yet and she said no.
Guardsman Jason Perry, 33, also spoke to Kate about her pregnancy.
He said,
"I wished her congratulations and said I hoped everything is fine. She said 'yes it is'

"I asked her if she was excited to be having her first child. She said 'very'."
William may just get his wish. While visiting the National Fishing Heritage Centre in Grimsby earlier this month she received a teddy bear from a local she and said,
"Thank you, I'll take that for my d–", but cut herself off mid-sentence.
I guess only time will tell!
---
{INFPHOTO.COM, WENN}
---
[ad]