UPDATE: I am sad to report that baby Isaiah lost his fight this afternoon(MAY 11,2009) while being held by his parents Rebecka and Isaac May. The full story is HERE.
Isaiah May was born to Rebecka and Isaac May, in Rocky Mountain House, Alberta on October 24th and from that day, his future has been uncertain.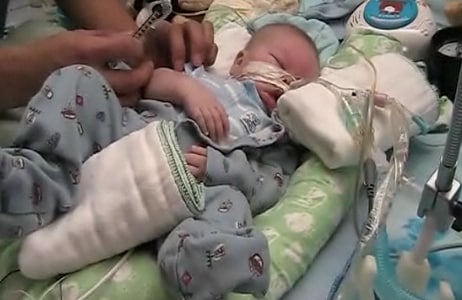 Isaiah's umbilical cord was wrapped around his neck at birth, depriving him of oxygen leaving him with severe and irreversible brain damage. He was air-lifted to Stollery Children's Hospital in Edmonton, where he was put on life support.
After three months on life support, neonatal specialists told the family that it was no longer ethical or responsible to prolong the baby's life because they believed that Isaiah had no reasonable hope of recovery.
His parent's hired a lawyer and recently obtained a court injunction preventing his ventilator from being removed for 90 days.
According to Dr. Bill Pope, the registrar of the Manitoba College of Physicians and Surgeons, it is rare to have disputes over withholding or withdrawing life-sustaining treatment, but when they occur, they are always very emotional. Doctors do their utmost to save lives, but they have also taken an oath that they will not cause their patients to suffer. "That's why it's never, ever an easy decision."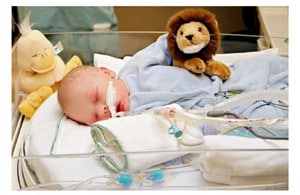 In the extra time Isaiah has had, however, his parent's say they have noticed improvements.
"Every time I hold him, he's non-stop moving, and he moves his head," he said. "He opens his eyes, his eyelids, a little bit and I mean, every little thing is an improvement, right?" said his father Isaac.

"He's come a very long way," according to his grandmother Cheryl Andrews. She added that he no longer needs as many drugs to control bodily functions. "He's starting to respond to pain. He's starting to respond to his parents' voices. That shows on the heart monitor when they talk to him."
The judge has ordered that the case be held over until February 19th, which will provide time for the baby to be assessed by Dr. Richard Taylor, a neo-natalogist from Victoria General Hospital. He will conduct his assessment and give his opinion as to whether the infant should or should not be removed from life-support.
Regardless of the outcome, the Mays do not have an easy road in front of them. It is a difficult position for both parents and doctors to be in. It is hoped that the February assessment will shed more light on little Isaiah's prognosis so that his family and his doctors can come together and make the best decision possible for him. – Jen R Staff Writer
Related Articles:
---
[ad]