While you're struggling to keep down breakfast in those first months of pregnancy, your little one is undergoing some remarkable changes. From a collection of cells, to a little being who can hiccup in your womb, here's what's cooking with your developing baby during the first trimester of pregnancy.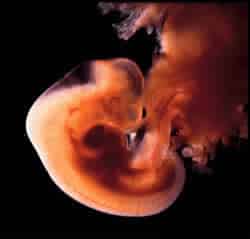 Often parents think all the important growing happens as the baby starts to show, but many of the important developmental stages occur before you know you're pregnant.  Everything happens so quickly during the first trimester to set your baby up for life. Just moments after fertilization the cells divide at a rapid pace and begin the embryonic stage.   One week into the process your baby's brain, spinal cord, heart, and gastrointestinal tract are developing to lead way for the arm and leg buds, which start to appear at 4 weeks.
Our friends at Pregnancy Magazine have a great article about The first trimester: How your baby takes shape Please check it our here.
---
[ad]