When I was a baby I used to scoot around the house and even the driveway in my baby walker. So naturally, after I had my son I looked into getting one for him and hit a wall. They're BANNED in Canada (where I live).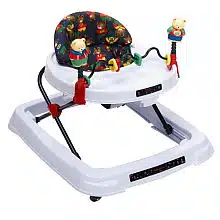 Banned? Why? At first, it appeared that too many kids were rolling downstairs in them so the Canadian Government pulled them off the shelves. They have been deemed hazardous products. I'm confused – a hazardous product?
The Health Canada website even says that if you have one you must destroy it. Are they that bad?
On my last trip over the border shopping Babies R Us had 3 different models. I was tempted to just buy one then our Occupational Therapist explained that they are in fact bad for a baby's development. They reduce the opportunity to learn, gain a sense of balance, stand up on their own, and lifts the baby up to a level that they are not prepared to be at. This makes them now able to grab a scalding cup of coffee or hazardous chemicals. 30-40% of infants who use walkers will have an accident. Infants in a walker are able to move at speeds of 1 meter/second and not even the most attentive parent can react fast enough to prevent an injury or a child flying down an ungated staircase.
Could the Canadian Government be onto something? They are the first country to ban the safe importation and advertisement of baby walkers. This also extends to secondhand and modified walkers.
With this all being old news why am I posting this now?
Most new parents, like me, have fond memories of scooting all over the place in their walkers, so naturally, you would want that to be a part of your babies' memories as well. Plus, there has been much speculation as to why Canadians were not able to buy them.
I personally had no idea the little monkeys could go so fast in them. That alone could take off a toe. Everything else makes sense and I am glad that we went with the exersaucer because I take comfort in knowing that my son will be where I left him when I come back.