Just a week after 18 restaurant chains in the U.S. announced that they would be overhauling their kid's menus, corporate giant McDonald's made public their plan to give their famous happy meal a facelift. Scheduled to take effect in September in some markets and then officially offered at all 14,000 McDonald's restaurants in the U.S. by April, the happy meal will see a 20% decrease in caloric counts.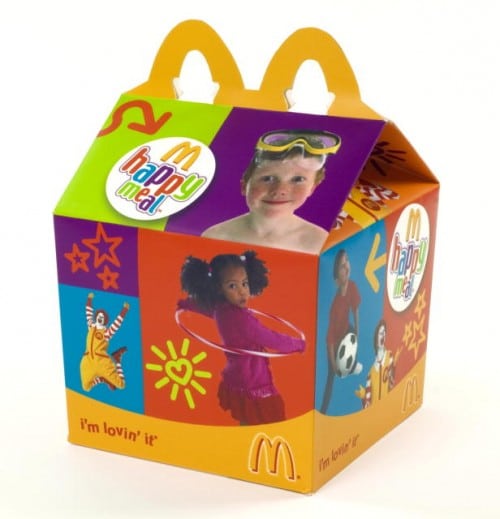 The meals will still come with a toy, but there will be a serving of fruit or vegetables and a smaller side of fries. The new fry portions will drop to 1.1 ounces of potatoes, down from 2.4. Apple slices, carrots, raisins, pineapple slices or mandarin oranges will be included as one of the sides, depending on the time of year and the region in which they're being served.
Jan Fields, president of McDonald's USA said today,
"People come to McDonald's and, first of all, they want the choice and the control to be theirs, but their expectation of a Happy Meal does include a fry. When we did it without fries, there was a huge disappointment factor. People tell us they want to feel good about visiting us regularly, about the food options that we serve, and want to visit us even more often."
In addition to the kids changes McDonald's also reduce the amount of sodium in it's other menu choices by 15%.
In 2006, McDonald's began offering apple slices with caramel sauce as an alternative to french fries. The company reported that while 88% of their customers know about the fruit option only 11% of kid's meals are ordered with apples instead of fries. Caramel sauce will no longer be available with the apple slices on the new menu.
McDonald's is hoping to make parents feel less guilty about feeding fast food to their children, so they'll become more frequent customers.
Geeta Maker-Clark, a family physician at NorthShore University HealthSystem said,
"I applaud any move toward including more whole food into a heavily processed meal. Bringing a whole food into it shifts the pendulum toward something more healthy, and I applaud the decreased portion sizes."
David Palmer, an analyst with UBS. Darren Tristano, executive vice president of Technomic, a restaurant industry consultancy in Chicago likes the idea, but thinks that the healthy choices may go to waste.
"I think you're going to get a good reaction from kids who like apples. But ultimately I think we're going to see a good bit of apples wasted from kids who just refuse to eat them. This seems like good leadership in the industry and one that should help the brand maintain its leading position with young families. McDonald's is clearly trying to strike a balance between nutrition and cravings, but consumers are going to chose what they want."
Related Articles: