If you have potty trained a child you know there is a lot of sitting and waiting for nature to call. We would read books, sing and even position it in view of the television to keep our boys from getting bored while waiting for things to happen.
Heeding the call, CTA Digital debuted a crafty solution for tech-savvy kids at CES this week called the iPotty!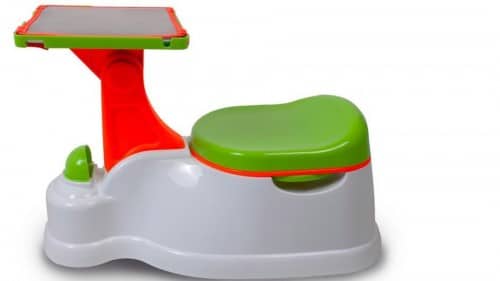 Designed to look like a regular portable toilet, the iPotty had an additional arm that will hold an iPad. This will allow your little one to play their favorite games, read an e-book or watch Doc McStuffins while sitting on the loo!
Last year alone Apple sold 66 million iPads, many of which are being used for little ones. These days, kids are better at operating technology than adults and are often spotted playing with tablets just about anywhere.
The iPotty would just make it more convenient for kids to carry on with their day while taking a pee.  Just like a regular potty it comes apart for cleaning and has 'splash' protection for your precious tablet.  It also rotates to offer a better viewing experience.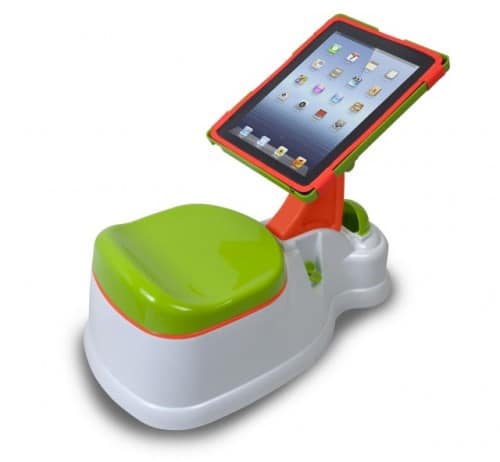 Priced at $39.99, the iPotty is not expensive and will probably be popular when it's released in March.
My oldest would sit forever when we were potty training him, but my youngest was quick. So I guess it really depends on the child and how much 'comfort' parents believe they may need to get things moving.
The device does, however, speak to the issue of connectivity. How connected does a 2-year-old really need to be? Are we so enamored with technology that we need to be tied to it every waking moment or could this be a treat that 'you can play a specific game on the iPad' if you go pee?
---