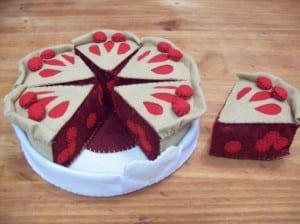 The luscious looking piece of 'Granny's Cheery Cherry Pie' makes your mouth water just looking at it, and the only thing better than the set of 5 'Chocolate Chip Tea Party Cookies' might be real ones fresh from the oven. Maybe.
The mom of 2 behind The Little Bitty Bakery has created a delectable selection of felt food for your little one's tea parties or play kitchen.  Made of felt in vibrant colors, and occasionally adorned with little bead sprinkles, these cookies are a real treat for kids of all ages.  Perfect for this season is the collection of iced felt Christmas cookies, including a Christmas tree, stocking, snowman, and two twinkly sugar cookies.
For something to be enjoyed all year round, there's the Bakery Basket Tea Party set.  Great for two, this set includes a delightful small chocolate cake, 2 sugar cookies, 2 strawberries, 2 candies and 2 cake rolls.  If felt tasted half as good as it makes these treats look, we'd all be in trouble!
For some scrumptious felt baked goods, be sure to check out the Little Bitty Bakery!
---
Related Articles:
---
[ad]