Matthew McConaughey and his family were photographed checking out of their downtown hotel headed to their private jet at Teterboro in New Jersey on Friday(July 28).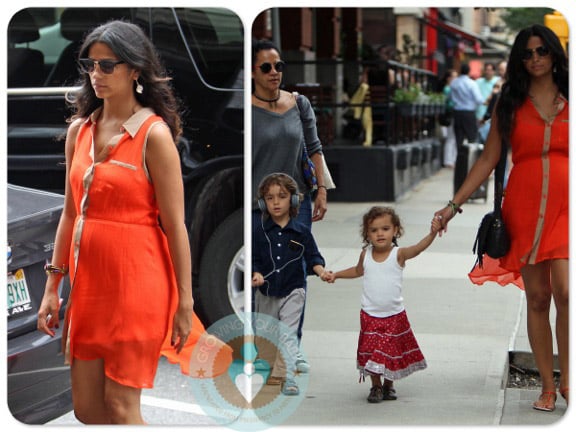 The couple has used New York as their home base while Matthew promoted his new movie Magic Mike.
Since arriving a month the actor has made the media rounds in London, Germany and New York, while the kids stayed in the city with Camila's mother.
The timing for the trip also worked out to be perfect for Camila, who was recently announced as the face of Macy's I.N.C International Concepts' campaign. At an event for the new collection the mom-to-be revealed that she thought her pregnancy may be a 'deal breaker' for the new job.
"A week before we were supposed to have a photo shoot, I found out I was pregnant!" the Brazilian model told People.

"I was over the moon, but my first reaction was that it was going to be a deal-breaker for the campaign — that they wouldn't want a pregnant mom — but we worked it out."
Matthew is currently slimming down for his upcoming film The Dallas Buyer's Club, were he will play an AIDS patient. He has already dropped quite a bit of weight but still has more to go, admits Camila.
"He's losing weight for his new movie and he still has to lose more," she explains. "But I'm very supportive. I'm usually the one right there saying, 'You can't eat this, you can't eat that,' but he's very disciplined. He's really great at it."
---
{SPLASH}
---
[ad]