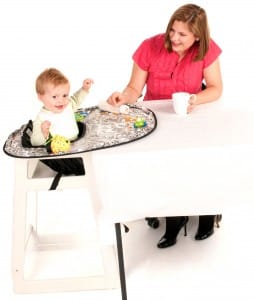 If you're a parent, you know that eating out with an infant isn't the easiest or most enjoyable experience.  More often than not you find yourself trying to entertain your child before your meal arrives and then doing a lot of clean-up during and after.  If you're like me, you may have even found yourself of the floor of the restaurant tiding up so that you don't face the embarrassment of the mess your baby has left on the ground.
Dining out with baby no longer needs to be messy, stressful experience. A mother-daughter team from Houston, Texas, has a solution for "neatniks" everywhere.  The "Neatnik Saucer" is their patented, 3-in-one invention that keeps baby tidy and happy while eating at a restaurant, says co-inventor and mom Danielle Batchelor. "It's an integrated high chair liner, placemat, and germ barrier that covers everything within baby's reach."
I love that I don't have to worry about my son chewing on dirty, germy restaurant highchairs and tables because the saucer completely covers the highchair and has a sturdy rim that suction cups to the table giving him ample room to play and eat.
The Neatnik Saucer features toy fasteners that keep play things off the ground as well as openings that accommodate the highchair straps to keep your little one safe.  It's available in a variety of water-resistant fabrics that are easily cleaned; it measures 28" in diameter, yet collapse easily for storage and travel in the matching 12 inch square carry bag.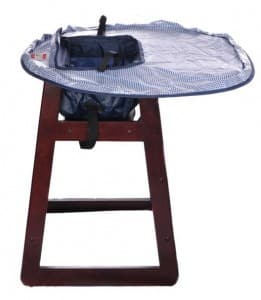 I have used my Neatnik Saucer a number of times now and on every single outing I've been asked by other parents where they could find one of their own and restaurant staff have been elated to see how it keeps their restaurant clean – one waitress was so enthusiastic about it she declared that it was "a waitresses dream come true!"
If I were to change one thing about the Neatnik I'd suggest that the seat be removable from the saucer for those heavy duty messes that require extra cleaning not just a wipe down – after all accidents happen.
With a suggested retail price of $32.95, and use for children ages 6 months to 3 years I wouldn't hesitate to recommend this to anyone.  You'll get years of use out of it and have a lot less frustration when you dine out – you can't go wrong with the Neatnik Saucer.
Thank you Neatnik for allowing us to review such a great product.
– Tanya, Staff Writer
---
Related Articles:
---