Modern medical technology can deliver wonderful news and news that is difficult to imagine. It is the latter that faced Renee Young and Simon Howie when a routine 3-D ultrasound revealed the truth about their unborn twins. The images showed that the twins that the couple was expecting were actually one child with two legs, two arms, one body and vital organs.
However, this rare conjoined twin shares two faces on one skull, along with two pairs of eyes, two noses, two mouths and two brains that are joined together through a single brain stem.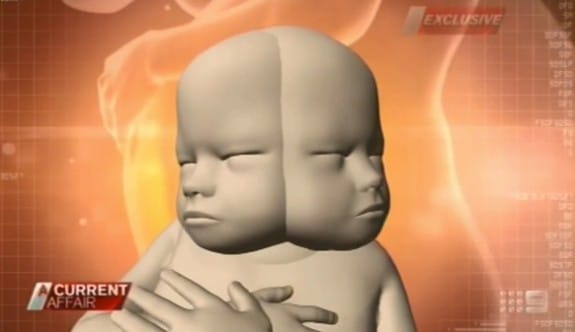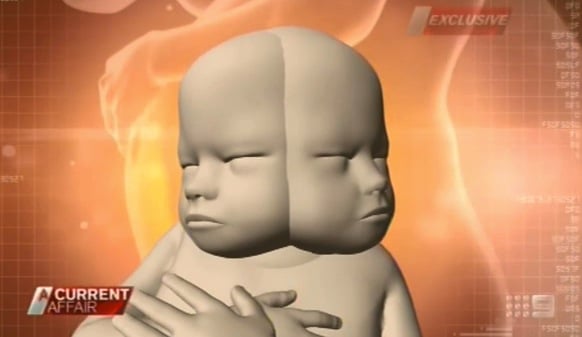 This is not the kind of new any parent wants to hear.
"Shocked, confused, a little bit of everything … I wasn't sure how to take in what he was explaining to me," Mr. Howie told A Current Affair.
Although this is an extremely rare duplication, it still has a medical classification. There have only been 35 reported cases of craniofacial hyperhidrosis or diprosopus. Sadly, none of these rare conjoined twins are alive today.
Ms Young was just starting her second trimester when her doctors broke inform her that it was already too late to terminate the pregnancy as an early procedure. Of course, that really doesn't matter to couple. They always intended to move forward with the pregnancy no matter what the advance tests might have revealed.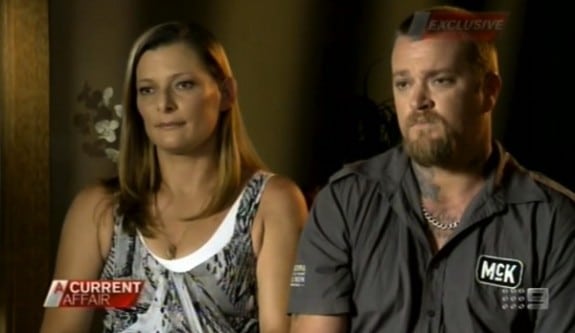 "It'd be the same as being a child with autism or down syndrome … I don't believe in terminating the baby if it's healthy and growing fine, and everything is going to plan," Mr. Howie said.
The family doctors are of another mind. They are actually advising them for a late-term procedure to terminate because of the huge struggles this child might face, especially with the outside world.
"We've got a really big family; we don't really involve ourselves in the community except for schools where the children are. We have a good family base … it gives us a lot of support," Mr. Howie said.
Dr. Greg Kesby is the maternal fetal specialist has dealt with several conjoined twins in the course of career. However, this particular case breaks all the rules.
"It's probably the rarest of all the conjoined twins, you'd be thinking numbers of one in a million to one in two million for this kind of anomaly," he said. Dr. Kesby's prognosis is that the child might not survive past the birth. If she did, then the costs for treatment would be astronomical. This will be especially hard on this family of nine who live in a four-bedroom social housing block in Sydney.
The family remains vigilant in their love for their unborn child.
"If I only get two days with the baby, I only get two days with the baby. At least I have some time with it," Ms Young, now 19 weeks pregnant, said to A Current Affair. "That's just the time we actually get to spend with the baby and its brothers and sisters get to meet their little brother or sister."
---
[ad]