Gwen Stefani and Gavin Rossdale spent a leisurely afternoon attending an outdoor birthday party with their sons Kingston and Zuma.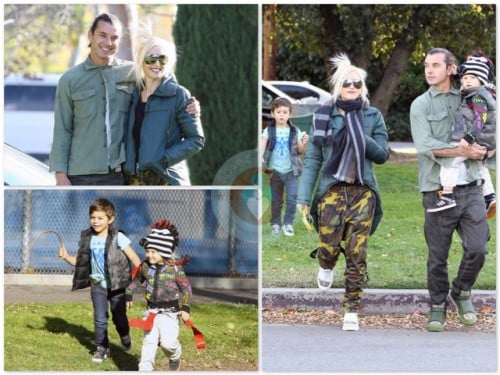 The boys had a blast running around the field playing touch football and throwing the ball with a dog.  The proud parents hung out on the sidelines and watched their boys play together before Gavin gave Zuma a few pointers.
The blonde haired cutie stayed warm in a Zebra knitted hat and a Harajuku Mini(for Target) graffiti hoodie.
During her November interview with InStyle Magazine Gwen spoke about her boys fashion sense saying,
"I like them to be creative and have fun. I'd love to be part of it – don't get me wrong.  Sometimes they'll get dressed and it's horrifying. But they often come out in outfits that are awesome."
---
Related Articles:
{FAME}
---