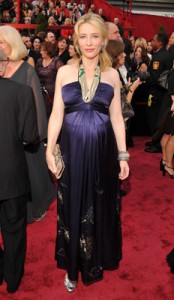 Jessica Alba, Nicole Kidman and nominee Cate Blanchett showed off their best accessory this evening at the Oscars – their baby bumps!!
Cate, who is the furthest along, spoke with People about the baby saying, "He's actually asleep – believe it or not, which bodes well."
Jessica, who is in her 3rd trimester, spoke with Ryan Seacrest, but was reluctant to say much about the new baby. She did however reveal that she plans to breast feed, after telling Ryan that he was getting personal…
Minnie Driver has created some pregnancy buzz last week after she was spotted buying baby clothes for a little girl. She arrived at Elton John's AIDS Foundation Academy Awards viewing party tonight in a flowy frock that appeared to reveal a baby.
---
WIREIMAGE* Nicole Kidman/Mazur, Cate Blanchett/cohen, Jessica Alba/Caulfield, Minnie Driver/Kambouris
---
[ad]