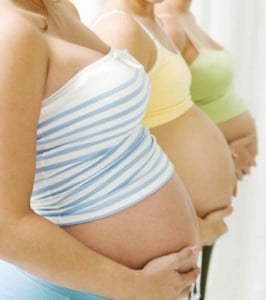 We've shared a few stories about sisters giving birth around the same time (some even on the same day), and it's always an amazing experience to share. We have yet another, in which three sisters from Utah gave birth to baby boys, all within the same month. Now that's one serious sister bond!
All from Layton, Utah, the three sisters – Misti Stokes, 24, Courtnee Hoffman, 21, and Kristal Turner, 25 – said they hadn't planned to get pregnant at the same time. It just kind of happened that way.
Misti was the first to find out and shared the news with youngest sister Courtnee, who then asked Misti if she had an extra pregnancy test. Courtnee's test came out positive. When sharing the news with their oldest sister, Kristal, Misti and Courtnee asked if she was sad that she was sad about not being able to share the experience with them. Her answer? No…because she was also pregnant!
On July 3rd, Misti gave birth to son, Boston. Early Saturday morning, Kristal gave birth to baby Stryker. Then, just a little more than an hour later, Courtnee gave birth Mack in the same hospital.
The experience of both sisters giving birth on the same day in the same hospital was a bit surreal. Kristal said she'd passed her mother in the halls of the Ogden Regional Medical Center, who had been on her way to see Courtnee, who had already been admitted to the hospital.
"She's like, 'What are you doing? Are you going to see Courtnee?'" Kristal told Deseret News. "And I'm like, 'No, I'm going to have my baby.'"
Though both sisters were obviously excited to welcome their boys into the world, they said it was difficult to not be there for each other during the birth experience. That didn't stop them from making the most of technology (and the hospital staff) to share the experience as best as they could.
"We couldn't go really into each other's room very much, but we would send pictures back and forth and text and ask how each other is doing," Courtnee told Deseret News.
And, in the end, it didn't really matter because all three had shared an amazing experience, which they say has strengthened their bond even further.
"It's been fun to go through it together," Courtnee said.

"I really think that there's a reason why all three are born together," Kristal said. "They are going to have a great support system for each other."
The cousins (two of which were delivered by the same doctor) were finally able to "meet" on Thursday.
Related Articles:
---