Little Grayson Clamp was born deaf. Unable to hear the world around him, this adorable toddler was finally given the chance to hear after receiving a rare breakthrough procedure. The first words he heard? "Daddy loves you" from his very own father.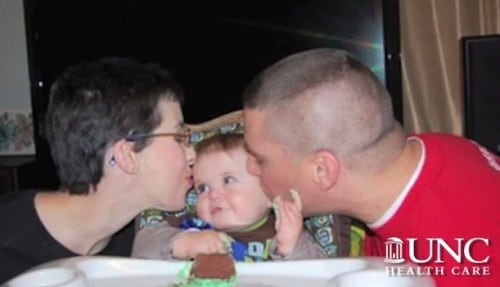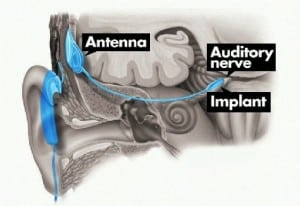 Grayson had a cochlear implant when he was 18 months old, but because he's missing the nerves that carry sound to the brain, the surgery didn't work. So, this spring, Grayson received a brain auditory stem implant at the University of North Carolina Hospitals. The surgery is so rare that he is the first U.S. child to ever receive the device. It was given to him via the U.S. Food and Drug Administration as a part of a clinical trial.
"We're bringing the potential for hearing to a child who can't hear and had no other options," Dr. Craig Buchman, head and neck surgeon at the University of North Carolina Hospitals, told ABC News.
The implant had to be placed directly on Grayson's brain stem. This is where the sensory impulses are normally received from the ear. Unlike the cochlear implant, which stimulates the auditory nerve, the innovative device completely bypasses the ear and its nerves. It helps him to hear by stimulating the brain directly, turning data from the receiver into actual sounds.
After four weeks in the hospital, sleeping with his bear, they turned Grayson's implant on. ABC News shared the video of Grayson hearing his father's voice for the first time, and in that video, you can tell this is a first moment that his parents will cherish forever.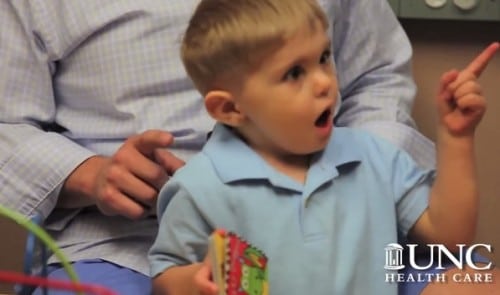 The first time Grayson's father, Len Clamp, said, "Daddy loves you," shock animated Grayson's face. He turned around to see where the sound was coming from and appears both shocked and a bit confused as he watches his father's mouth move as he continues to repeat the same phrase. Finally, full realization sinks in.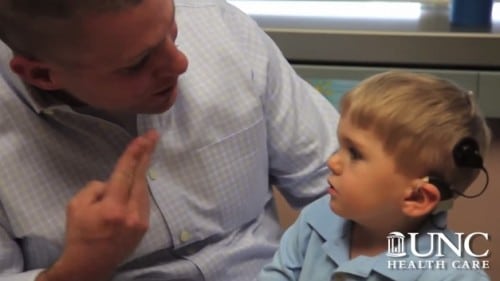 "I've never seen a look like that today," Len told ABC News about the day the implant was turned on. "He looked deep into my eyes. He was hearing my voice for the first time. It was phenomenal."
Still shocked but seemingly excited, Grayson even started responding to his father's voice after being asked to show his daddy the puppy in his book. Though he looks a little overwhelmed and a little confused in the video, it's now been a month since the device has been turned on and he's reportedly doing very well with it now.
"A mix of overwhelming joy, relief, excitement," Grayson's mother told ABC News about the first time he'd heard his father. And though he'll need speech therapy in the coming months, Grayson's mom says that "he's more aware of what's going on around him."
Below is the video the UNC School of Medicine put together:
Related Articles:
---
[ad]