Yesterday we had the opportunity to attend Time To Play Magazine's Summer Toy Showcase in NYC to preview what is going to be hot for kids this Summer.
At the event more than 20 leading toy companies showcased their top new toys including blockbuster movie 'must haves' and toys that make the most of the outdoor.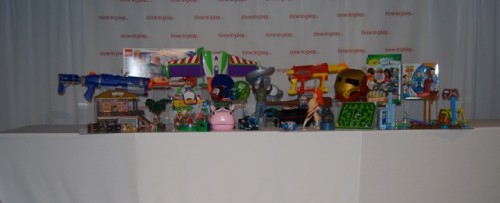 Here are some highlights:
Toys Story 3 Toys: The number one theme I saw yesterday was Toy Story 3 licenced toys from all manufacturers. In total, there will be over 250 products introduced to tie into Toy Story 3 movie. Everything from costumes to video games, patio sets and even Buzz Lightyear Deluxe Action Wing Pack. Here are some highlights:
Outdoor Toys: As the weather gets nicer, parents should expect to see lots of cool stuff in the stores for outdoor play. Everything from outdoor play gyms, preschool furniture, cool chalk sets and sports gear will be soon filling toy shelves. Here are our picks!
Some of the toys shown are: (in order)
U Command Buzz
Buzz Lightyear Deluxe Action Wing Pack
Toy story 3 ultra blast gauntlet
Buzz's Blaster Tilt Action LCD Video Game
Mattel Kids Golf Club Set
---