We love sharing stories of miracle babies! My personal favorites are those that continue to thrive as they grow, despite having the odds stacked completely against them. Sofia Meechan is one such child.
Sofia's mother, Rebecca, a forensic scientist, couldn't have imagined that she'd be enrolling Sofia in school this year.
"When she put her school uniform on for the first time, I burst into tears. I couldn't believe that my bubble wrap baby was actually starting school. She has come on such a long journey," Rebecca told Express UK.
In fact, Rebecca wasn't even certain that she'd ever have a chance to hold her daughter because the fight for survival began early on in the pregnancy.
"My pregnancy had been complicated from the beginning. I started bleeding at seven weeks and thought that I was losing Sofia then," Rebecca said.
But somehow, Sofia managed to stay in her mother's womb. Unfortunately, her journey was far from over.
"She hung on until I got to 24 weeks pregnant but then I went into labor and doctors diagnosed me with an incompetent cervix which meant I couldn't hold my baby in my womb any longer," Rebecca said. "I kept begging them to listen to Sofia's heartbeat to check that she was still alive. I was terrified that she was going to die because she was being born so early."
Born via Cesarean at 24 weeks gestation, Sofia weighed in at only 1 pound, 8 ounces. Doctors warned Rebecca that it was unlikely her daughter would survive. Of course, no one needed to tell her that, because looking at tiny little Sophia, it wasn't hard to see that the odds were slim.
"Her head was so tiny, it was the size of a boiled egg," Rebecca said. "She just lay there so small and fragile. I kept thinking how could something so small possibly survive."
But Sophia's grave odds didn't stop doctors from doing all they could for the tiny preemie.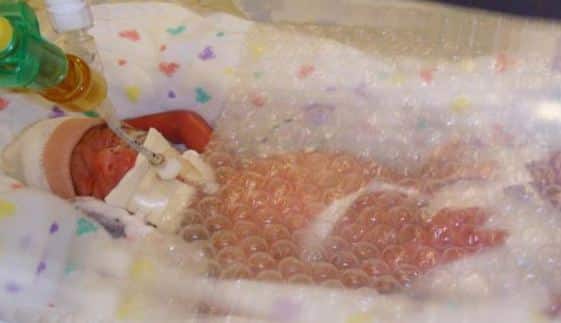 They wrapped little Sophia in bubble wrap, which would keep her body warm through that very first night. For the next 13 weeks, she remained on life support. She would have surgery to close a heart valve, but her organs would start to fail as she faced complications from the surgery.
"That was the lowest point. I thought I was going to lose her, after all these weeks of fighting."
A dozen rounds of resuscitation and 15 blood transfusions later, Sophia would get to go home, when she turned five months old. Since that time, she has fought. Now, one wouldn't guess that her odd nickname comes from the fact that she'd her first days wrapped in bubble wrap.
"I've called her Bub since the day she was born because of the bubble wrap that saved her life," Rebecca said.
Rebecca has shared her story and her daughter's journey of survival, via a book on Amazon entitled My Bubble Wrap Girl: Sophia's Story.
Related Articles: