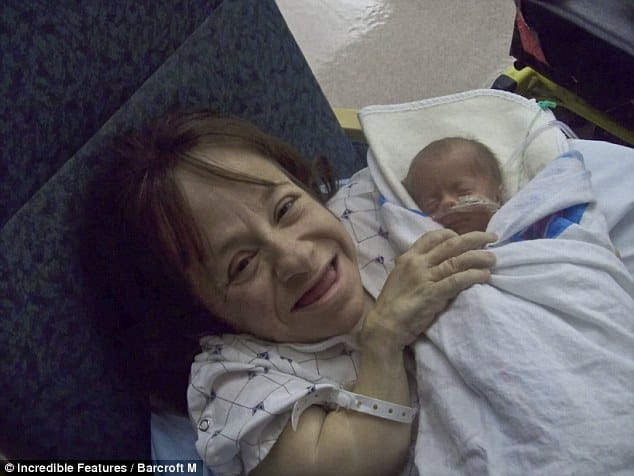 Today tiny mom Stacey Herald and husband Will are celebrating the arrival of their third baby. Born eight weeks early, Malachi Herald arrived by caesarian section on November 28, weighing just 2lb 10oz.
Years ago, doctors warned Stacey, who is just 2ft 4ins, it would be too dangerous for her to ever have children.
Determined to have a family, the 35-year-old defied docs and has gone to give birth to three babies in the last three years.
Stacey, who has 34 stitches across her stomach, said: 'He's the most beautiful perfect boy I've ever seen.

'All I want to do is stay by his side.' She had been expected to give birth just before Christmas, but doctors decided it was not safe to let the pregnancy go any longer.

The mum of three from Kentucky, USA, has a rare genetic disorder called Osteogenesis Imperfecta, which causes brittle bones, underdeveloped lungs and stunted growth.

She uses a wheelchair but manages to care for daughters Kateri, three, and Makya, 18 months, with the help of husband Wil, 27, a trainee priest.

Stacey was told having children would risk her life because the pressure of the pregnancy would put too much pressure on her body and squash her internal organs.

But after marrying Wil, who is 5ft 9ins, in 2005, Stacey bravely decided to go ahead with her plans for a family.
Now the couple has three children and have not ruled out the possibility of more.

For now, Baby Malachi is being cared for at a hospital in Cincinnati, Ohio, and will have to stay in an incubator for several months.
We wish the Herald's well and hope that baby Malachi comes home soon!
Related Articles:
---