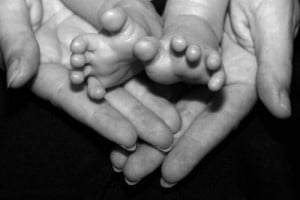 At just two days old, little Ayush Arora was fitted with a pacemaker. Weighing in at 1.5kg, he is thought to be the smallest infant in the country to ever receive the life-saving device.
"He is certainly the smallest premature child in the city of have got a pacemaker," said pediatric cardiac surgeons Suresh Rao and Smrutiranjan Mohanty of Kokilaben Ambani Hospital. "He is likely to be the smallest in the country, too."
Ayush had what is medically known as a heart block. This is a condition in which the heart's electrical system is impaired. As a result, the rate and rhythm of the heart is irregular. If the impairment is serious enough, the condition can result in death.
Ayush wasn't alone in his condition, however. His mother, Sheetal, who had conceived using IVF after 20 years of marriage, had been pregnant with twins. Sadly, during the pregnancy, doctors diagnosed Sheetal was diagnosed an auto-immune disorder. This unnamed disorder is medically known for causing the mother's immune system to mistakenly attack the nerve fibers of an unborn fetus's heart. At 26 weeks pregnant, Sheetal and her husband, Jodhpur, found out that the twins they had waited so long for were, in fact, suffering inside the womb. Two weeks later, Ayush's twin died.
"We faced some of the most critical moments of our lives in the last few months," said Jodhpur. "My wife was taken to Kokilaben Ambani Hospital on June 20th from the Malad hospital where she had been admitted. Ayu8sh was delivered through Caesarean section the saye day. The infant's cries and heartbeats – barely 40 per minute as against the normal 120 per minute – were so faint thathe was put on ventilator."
Somehow, little Ayush managed to hold on for two whole days. It was at that time that the cardiac team of Rao and Mohanty fitted him with a temporary pacemaker. Eight days later, they fitted him with a permanent pacemaker that will last him until about five years of age.
Few infants from India have the same chance at life that Ayush was given; heart block treatments are still rather conservative in India.
"In our country, it is still difficult for premature babies to survive with a complete heart block,"  said Yash  Lokhandwala, a cardiologist from the Holy Family Hospital  in Bandara. Lokhandwala did not participate in the surgery.

"The usual practice is not to operate on a child till he or she is six or seven years old and has no visible symptoms of a heart block," said cardiologist Bharat Dalvi from the Seven Hills Hospital in Andheri, who was not involved in the surgery.

"Ayush's operation is an important landmark when one considers that in India, people still wrong believe that children shouldn't get a pacemaker till they are 10kg in weight," said Rao. "This operation proves that pediatric cardiac care in India is getting better."
The surgeons did admit, however, that fitting the pacemaker wasn't exactly easy.
"His heart was literally the size of a strawberry," said Mohanty. "It was a task deciding how to fit the lead and where to fit the generator."
So far, it appears that the surgery was a success. While Ayush still hasn't even reached the age of full-term, each day he inches closer and closer to the 2kg weight  that will help him move from the ICU to a normal baby unit, and hopefully, home with his parents.
Related Articles:
---
[ad]