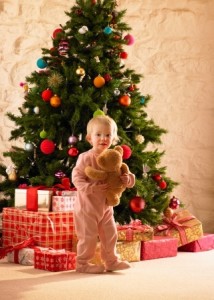 Tis the season to visit friends and family!  And while every kids loves to visit with grandma – her house isn't always safeguarded for little explorers.    To help, we have teamed up with Safety 1st's Consumer Safety Expert Julie Vallese to share some tips for keeping your kids safe when you are away from home.  Take it away Julie!
The holidays have arrived and whether you are celebrating in your home or as a guest with friends and family, make sure to keep a close eye on your little one. If you are traveling this holiday season, it's easier than you think to keep baby safe in someone else's home.
While you are packing your suitcase, plan ahead and pack a safeguarding essentials kit. In the kit you should include: outlet covers, door knob covers, and corner cushions. If you are driving and have room in the trunk a gate is another great essential to bring with you.
As this home may be new to baby expect that he or she will want to explore every room. Therefore while celebrating away from home making sure outlets are covered, is an easy a non- intrusive way to safeguard. It's important to create off limit rooms, such as the bathroom or laundry room. This is where a door knob cover can come in handy. Easy for guests to still use these room, but harder for baby to go where she shouldn't.
As a rule someone should be watching baby at all times, but if possible put up a gate in from of all stairs. Additionally, asking your host if it's Ok to put corner cushions on sharp tables edges will be easier than asking him or her to remove the table. Corner cushions go on and come off easy.
The holidays are supposed to be entertaining so remembering these tips can help keep the holiday safe, as well as fun.

Party! 
Please join me on December when I take to twitter to discuss Hidden Holiday Hazards: Travel and Home with some of my fellow bloggers and the team from Safety 1st.
The holidays can be a fun time but there are also many travel and home dangers that are often overlooked. This Twitter party will be designed to be a place for parents to share tips on how to keep the holidays safe and happy.
Julie Vallese (@JulieVallese) will be the leading the party.  She will be joined by myself (@growingyourbaby), Lindsey from Lille Punkin, Christine from from Dates to Diapers, Kristen from Our Ordinary Life and Jacqueline from A Moms Blessing.
There will be four prizes will be awarded throughout the party:
1 person will win of a Holiday Travel Bundle: Just-in-Case Storage Station, Car Door Sanitation Station, Front or Back BabyView Mirror and Advanced Solutions First Aid Kit.
1 Person will win a Kitchen Safeguarding Bundle: Advanced Solutions First Aid Kit, Oven Door Lock, Oven Door Lock, Multi-Purpose Appliance Lock 2-Pack
1 Person will win a Travel Safeguarding Bundle: Essentials Childproofing Kit , ProGrade™ Clearly Soft Corner Guards, SecureTech® Cabinet Lock , Easy-Fit® Security Gate
Grand prize winner will win a Safety 1st car seat of his or her choice.
We look forward to seeing you there!!
---
[ad]