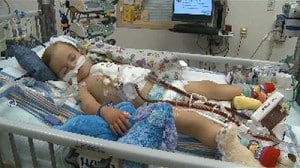 Owen Stark, a Missouri toddler who was expected to live only days, may be discharged from St. Louis Children's Hospital within the month, thanks to his new artificial lung.
As far as friends and family knew, Owen was a perfectly healthy two-year-old boy, until he collapsed one day and was airlifted the hospital.  Paramedics had their work cut out for them on the trip, as Owen's heart stopped over and over – ten times in all.
Once at the hospital, doctors diagnosed the toddler with Pulmonary Artery Hypertension, a condition that results in the rapid shut down of the heart and lungs.  This is a condition that is very common in the elderly but quite rare in young children.
Owen's name was put on the lung transplant list and he was connected to a heart-lung bypass machine in the interim.  A solution had to be found quickly, however, as being connected to the heart-lung bypass machine for more than two weeks, would have caused permanent and serious damage.  Doctors decided to take drastic measures and try something that had never been tried before, on someone so young.
They fitted Owen with and artificial lung which forces his own lungs to take in more oxygen and to release carbon dioxide.  It is a German device called NovaLungs LA.
Since Owen was fitted with his artificial lung, he has made a remarkable recovery.  He has even been taken off the lung transplant list and is expected live a long life.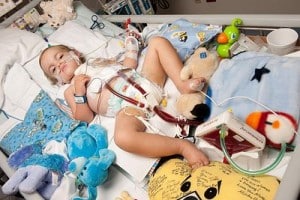 Paediatric cardiologist, Dr. Mark Grady says,
"I don't think there is any question about it.  This absolutely saved his life.  His recovery is nothing short of amazing."

"This potentially opens the way for younger patients and even newborns everywhere to be fitted with artificial lungs," Grady said.
Owen's 32-year-old father, Justin said,
"There is some consolation in knowing Owen's procedure could help other children in the long run but we would have given anything not to be the first parents to try this."

"His life expectancy has gone from a few days to a few weeks and now years.  It's a miracle," said his 29-year-old mother Tonya.
We wish Owen and his family the best of luck and a speedy recovery. – Jen R, Staff Writer
Related Articles:
---
[ad]