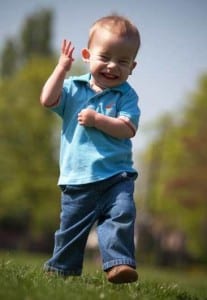 Little George Donlan looks like any other happy, vivacious infant. He wears 9-month-old clothing and he's just learned how to walk while holding onto furniture. He has a hard time communicating sometimes and throws tantrums when his parents don't understand him. Sounds like most infants, right? There's just one problem…he's not an infant anymore. George is actually three-years-old.
George was born with an extremely rare genetic condition known as chromosome ring 18 – a condition that affects only about 150 people worldwide. The condition is caused when the 18th chromosome, a chromosome that plays a very big role in growth and development, forms a circle. The exact cause is unknown, but scientists have found that chromosomes sometimes form rings because some of the pieces are missing from the "arm" of the affected chromosome.
Growth and development aren't the only defects of chromosome ring 18 though. While defects can vary from one person to the next, doctors know that some have suffered from defects like severe language delays, hearing loss, vision problems and heart defects. Two of all of the reported cases have resulted in premature death and because there is so little known about the condition itself, no cure exists.
But little George is doing his best, overcoming so many of his defects. While he does visit the hospital often and has to be fed through a feeding tube, he has learned how to use sign language to communicate with his parents.
"[Sometimes] he can't communicate with us and it's an ongoing battle," said George's mother, Cheryl Donlan. "George can get frustrated and shout when we're out and about, but people just stare and think he's being naughty."
But people staring is the least of their worries. A cloud of uncertainty looms over them. No one really knows how his illness will affect him later in life because there is just so little known and the effects vary so much from one individual to the next.
"He seems to be developing more complex issues as he gets older," Cheryl said.
Friends, family and other supporters hope to bring awareness to chromosome ring 18. They're so passionate about helping George and others like him that they have rallied around to raise £30,000 for more research on the illness. As part of the campaign, they will climb Mount Snowdon.
George's mother, who is also a mother to six other children, is beside herself with all of the work the supporters have done.
"It's about raising awareness and money for research. It will be an amazing day," she said. "I'm overwhelmed by everyone who has agreed to climb Snowdon and I owe them all a big thank-you."