The recent flood in Australia has left four people dead, thousands evacuated and tens of thousands more stranded. But the tragedy has seen at least one amazing rescue – a little boy and his mother who had been trapped in their truck amid the rising waters.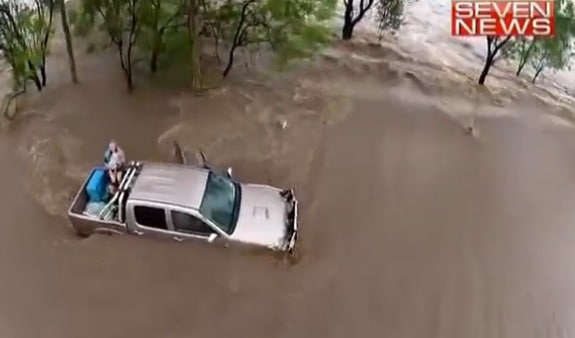 Robin Collie, who is four months pregnant, had been driving to the town of Bioela in the state of Queensland when her truck hit a submerged tree branch. The engine stalled and left her, a friend, and her two-year-old son, Luke, stuck with waters rising all around them. She immediately called emergency personnel for assistance. But because of the extreme circumstances, with more than 1,000 people being rescued by the Australian army so far, the trio ended up having to wait two hours for an airlift helicopter to rescue them.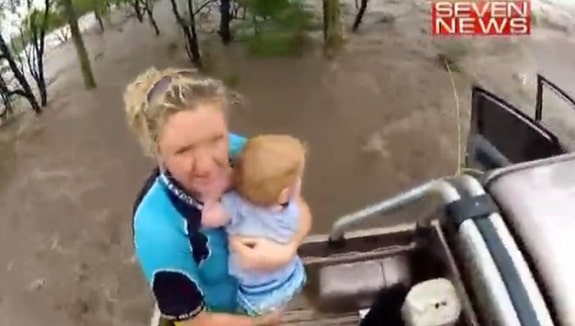 When the airlift finally arrived, they found that little Luke was just too small to fit into the rescue harness. Thankfully, they were able to improvise; a waterproof equipment back was sent down to Robin. And despite Luke's frightened tears, she and her friend worked quickly and zipped him up into it so he could be lifted to the helicopter.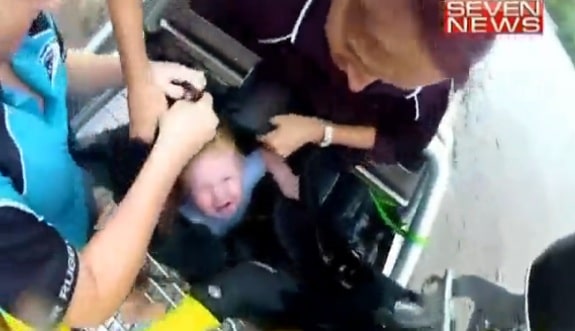 "The worst part was seeing him go up in the bag…zipped right up, no little hole to peek out of or anything," Robin told Seven News. "[I felt] sick. It's your baby. It's your life. Putting him in a bag and zipping it up, God, above water that could carry him away."
But Luke didn't get carried away. He made it safely to the helicopter where emergency responders reopened the bag and let the scared but alive little tike out.
"He poked his little head out, he was like a kangaroo in a pouch," Robin said, adding that the experience frightened her to the point that she won't ever drive through puddles again.
While the damage from the storm is massive, authorities say that there haven't been any houses swept off their stumps, as originally feared. And Queensland's premier, Campbell Newman, told Seven News that Bundaberg's residents are "showing a lot of guts."
"I have talked to a number of people who clearly have lost an awful lot, if not everything," he said. "But [they] are dealing with this in a very stoic fashion…and they aren't going to give up on this."
Related Articles:
---
[ad]