If there's one thing you need to know about icy road conditions, it's that it is nearly impossible for a semi to come to a complete or sudden stop because of the weight they are carrying. But you should also know that, should you lose control of your car right in front of a semi, it's very unlikely that you'll be able to regain control in time. This is what happened on an icy Moscow highway earlier this week.
While driving down a highway in Russia, a silver Mitsubishi lost control and swerved into the oncoming lane of traffic. Just as the vehicle spins back into its own lane, a passing semi clips its back end, taking much of the rear end off and popping the back window clean open. Upon impact, a two-year-old child was ejected from the back seat out onto the road. The amazingly resilient child who had somehow survived the crash started to crawl across the highway towards her parents, who were already outside of the car, trying to get to her.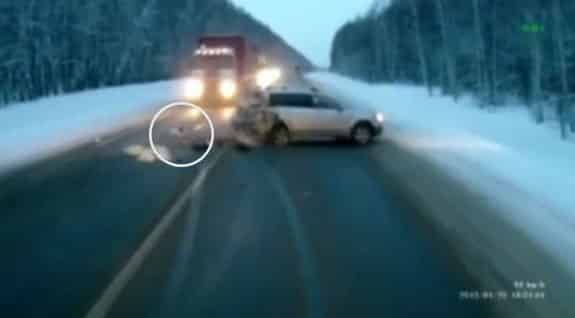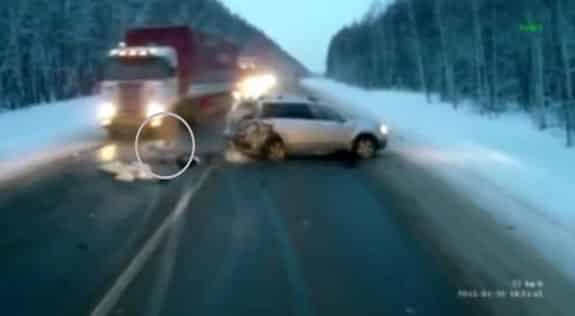 Those small crawl steps quite possibly saved her life. As she moved towards her parents, an oncoming semi slammed on its breaks, but it couldn't stop in time. Its wheels just barely missed her tiny, sprawled out body.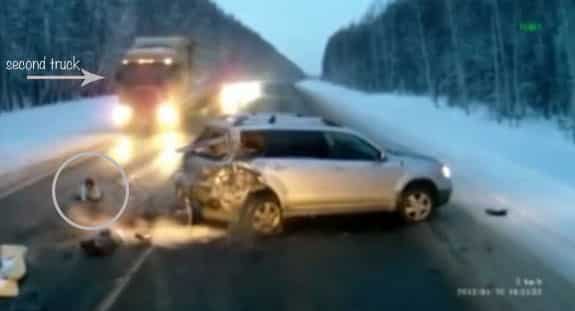 Most likely because the driver had seen the accident up ahead, the third semi was able to stop and give her parents a chance to retrieve her safely from the road. The little girl was taken to the hospital for treatment after the crash, and according to Daily Mail UK, she suffered from nothing more than some cuts and bruises to hear head.
Because the driving conditions in Moscow have been so bad recently, drivers have started installing cameras on their dashboards for insurance purposes. As a result, the vehicle behind the silver Mistsubishi was able to capture the entire accident on film.
Afterwards it was revealed that the child wasn't secured in an infant safety seat, just sitting across the back window, which explains how she was ejected so far from the vehicle.
Related Articles:
---
[ad]