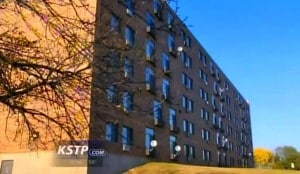 A St. Paul toddler, is alive but in serious condition after she fell six stories from her apartment window over the weekend. This is the second fall in the area this season. It is also one of countless falls this year.
Two-year-old Patia Cotton was playing on a couch that was pushed up against the window in her sixth story when she lost her balance and fell through the window which was screened, but open. Patia's mother, Nakita Patton, another adult and other children were in the apartment at the time of the fall.
The Housing and Urban Development shows that the complex was last evaluated by the city for "fire certificate of occupancy" in 2001, receiving a score of 98.41 out of 100. And according to Angie Wiese, spokeswoman for the city's Department of Safety and inspections, the complex does not have any registered complaints with the city about the window.
Susan Michaletz, president of the company that owns the complex, Tapestry Management LLC, says that they are not aware of any issues with the windows either but they are investigating the issue, saying "We're looking into what happened, and we're waiting for a police report. As far as I know, it's simply an accident."
That's exactly what police spokeswoman Howie Padilla told reporters. "We now believe this to be just a tragic accident," she stated.
A similar accident that resulted in the death of an 11-month-old infant also took place in St. Paul on August 11th. Little Ilhaan Hassan was playing on a bed in her room with other children when she fell from an open window in the ninth floor apartment.
Safety experts are taking this time to warn parents that windows are not designed to contain children if they fall – closed, screened or open. Furniture should not be against the window because of accidental loss of balance. Window stops and opening the top of double-hung windows are all recommended to help avoid child falls.
Another personal idea would be bars. These can be installed to the external of the window of high apartment buildings and second story windows. It may not be a great decorating idea but it would help to prevent falls.
Related Articles:
---