We love sharing stories about our little fighters, but sometimes the fight for life becomes too much. Such is the story with little Hannah Warren who, just three short months ago, was the youngest person ever to receive a transplanted windpipe made from her very own stem cells.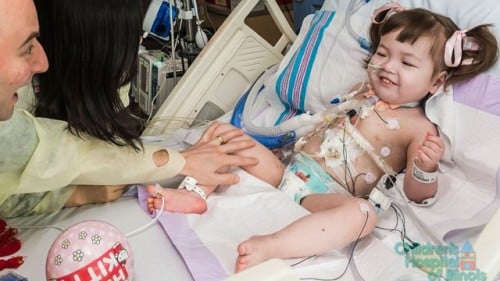 Hannah's story started like most pregnancy stories, with excited parents that were anxiously awaiting her arrival. But fear and uncertainty clouded Hannah's arrival after doctors discovered that the girl had been born without a windpipe. Anxious to help her survive, doctors reconfigured her esophagus so that they could place a breathing tube down her mouth and into her lungs. But the prognosis didn't look good.
Though she battled for her life for the next two years, Hannah fought hard and outlived her original prognosis. Then, Hannah's parents were given a ray of hope – doctors could construct a fully operational windpipe using her own bone marrow and then implant it. She would be the youngest patient to ever receive a stem cell organ, but doctors were optimistic.
The surgery that her parents traveled from South Korea, where Hannah was born, to the United States to have done was a success. And, despite an infection shortly after surgery, it looked as though Hannah had a long life ahead of her.
"We feel like she's been reborn," Hannah's father, Darryl Warren had said after the surgery. "They hope that she can do everything that a normal child can do, but it's going to take time. This is a brand new road that all of us are on. This is her only chance but she's got a fantastic one and an unbelievable one."
Sadly, Hannah's condition only worsened over the next few months. The hospital told The Star in a statement that Hannah couldn't "overcome additional health issues that were identified as her care progressed."
Hannah's family, who have requested privacy as they grieve the loss of their daughter, shared a bit more as to what went wrong.
"Her new trachea was performing well, but her lungs went from fairly good, to weak, to poor," they said on their blog.
Yet, despite their loss, it is the family's hope that Hannah's fight and successful surgery serve a purpose, a purpose that will hopefully keep other parents from experiencing the same loss that they have.
"She is a pioneer in stem cell technology and her impact will reach all corners of our beautiful Earth," the family wrote about their daughter, who would have turned three next month. "We will forever miss her infectious personality and miraculous strength and spirit."
Related Articles:
---
[ad]