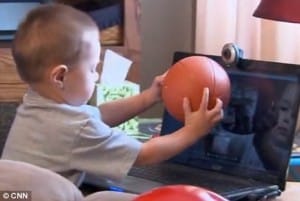 We are one week closer to Spring, and there is a lot blooming up around the web. There is so much going on it is hard to contain it all under one roof. Parents are getting ready for the warm weather, and many kids already dreaming of summer with all the fun that comes with it. While you are relaxing, check out these top stories to see how parents in other parts of the woods are doing.
What do you do when your kids are your polar opposites? At Steady Mom, Megan talks about dealing with that obstacle in parenting.
It's hard when parents have to be away from their kids, but imagine if both parents have to be away for months at a time. One couple serving overseas uses Skype to stay connected to their toddler during these difficult times.
Are you ready to play? Let's Explore has a fun list of ways to play in March that every parent should check out.
Maybe punishments aren't always the best choice. According to one study, punishing children can lead to complex behavioral issues rather than better behavior.
Boys may need special care when handling negative emotions. That is what one research study says for parents.
How do you deal with cancer and pregnancy? That is a terrible situation that too many women find themselves in each year. Read the amazing stories of women facing such odds.
Think you need to stop breastfeeding if you find yourself pregnant? Read at Babble why this myth needs to be shattered.
---
[ad]