Traveling with kids can be stressful – especially if you haven't brought the right gear. Carrying a heavy baby through the airport, paying extra to check gear, and having your little one gets lost on the plane can get a relaxing vacation off to a rocky start.
From experience, these are my top picks for travel gear for parents. Cleanliness, convenience, and safety are all important to every parent. Having a couple of pieces from our list will help with this!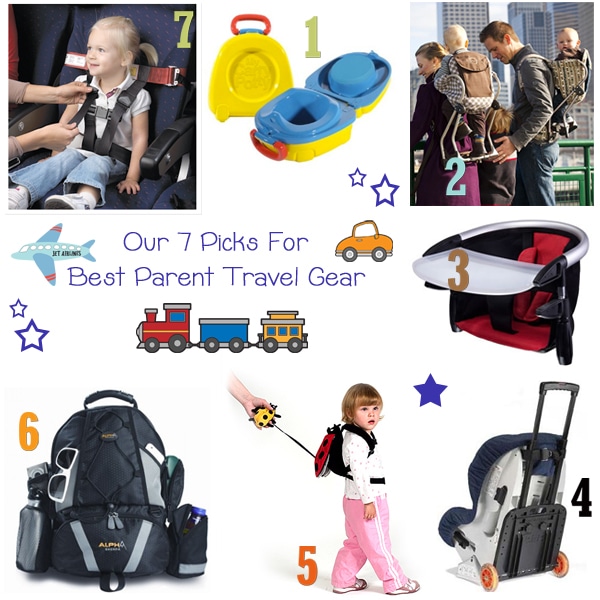 My Carry Potty($25) -Designed for road trips or outdoor excursions, my carry potty will ensure that your child always has a clean place to pee. Once their done an airtight seal will keep it leak-free until you can find a bathroom to empty them. Portable, clean, and convenient!
Kokopax Carrier($99 – $180) – I am in love with my Kokopax Carrier. It is the most stylish way to carry your little one while out sightseeing or navigating through busy crowds. Its clever design allows your child to sit up high enough to see everything without putting a strain on your back. I can't recommend this carrier enough. I have used mine everywhere – grocery store, park, and even around the house when Mr. Fussy won't let me get anything done. Comes in 3 styles
phil&teds lobster travel highchair – Designed for kids 6 months to 3 years, this portable clip-on highchair is both compact(weighs 3.9lbs) and convenient. It can fit easily in your carry-on or can be packed in your suitcase. The included tray will also ensure that you never worry about your child eating off a dirty public table again.
Gogo Kidz Travelmate($79) – This convenient 'Travelmate' is the perfect option for parents who want to bring their own car seat instead of renting one when they reach their destination. The board attaches to any seat easily, allowing it to be rolled through the airport like a suitcase. We have used our Gogo Kidz Travelmate on many occasions and love it. It always gets a lot of attention from other travelers as we roll our little ones through the airport.
Safe2go Child Safety Harness($25) – This cute character backpack, conceals that it is actually a child safety harness. The backpack/safety harness is equipped with adjustable padded shoulder and waist straps. It comes with a retractable 38″ tether which can hold children up to 50 lbs and can be retracted into the pack when not needed. There is room in the backpack for a small toy or snack.
Alpha Sherpa($80) – This full-featured backpack is perfect for traveling parents. You can load all of your necessities into it, throw it on your back and then have your hands free to push a stroller or hold your child's hand. Features a soft-sided cooler uniquely integrated into the diaper bag backpack to store bottles, snacks, beverages, and medication (holds 6-8 canned beverages)Change pad included as is a cell phone/iPod pouch slot and a sunglass case.
CARES Airplane Harness($60) – If you don't have room for a car seat but want your child to be in a secure harness on the airplane CARES is the piece of gear for you. It comes in a travel bag, installs in seconds, and keeps your little one secure in their seat. Also adjusts to fit almost every size airplane seat and is designed for children 1 year and older weighing 22-44 pounds and up to 40″ tall.
Related Articles:
---