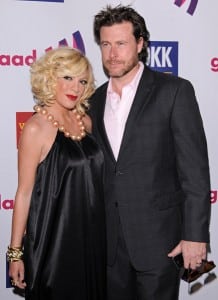 Congratulations to Tori Spelling and Dean Mc Dermott on the safe arrival of their third child – a girl!
Hattie Margaret McDermott arrived yesterday weighing 6 pounds, 14 ounces, measuring 20 inches long.
The new mom announced the exciting news on twitter this morning saying,
Our family's so happy 2 announce tht 10/10/11 R baby girl Hattie Margaret McDermott was born at 7:08am!
On Saturday Tori tweeted that the family was doing last minute preparations and also trying to predict when the baby would arrive.
Liam+Stella organizing baby's stuff.due date 20th but I think b4. I think 9th. Dean thinks 10th. Predictions?
Dean is the winner!
The sex of the baby was probably a surprise to the former 90210 star.  She recently revealed she was expecting to have a boy.
"My gut says boy, and we have a boy's name that we're pretty set on."
Is it possible that the couple isn't done having babies?  Tori continued saying,
"Whatever we have, we'll go for the opposite on the fourth one. If we are able to have another child, that would be amazing!"
Tori was very great while she was pregnant!  Here is a look back at some of photos from the last few months.
---
Related Articles:
{PACIFIC COAST NEWS}
---
[ad]