Tori Spelling's children's apparel line, Little Maven by Tori Spelling, is now available at Bloomingdales. Back in April, the actress and mom-of-two dished to People.com about her chic and casual Hollywood-inspired line.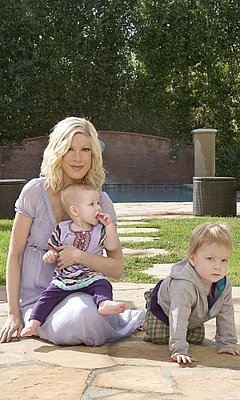 "I've always loved fashion," she says. "It's one of my big passions in life. When I had kids I knew I wanted to use my flair for style to make stylish yet comfortable clothing for my children. Liam and Stella inspired me to make stylish yet accessible clothing for infants, toddlers, and children."
But style wasn't the only factor actress considered.
"The comfort [and] functionality factor really influences the styles I include in my collection. I pay close attention to what styles and materials Liam and Stella feel most comfortable in, and then I add the stylish element. Plus I love to dress my kids in strong fun pop colors, and that really inspired me to keep the line bold in palette."
So which looks are her kids loving right now?
"Liam loves bold bright colors and gravitates to them. Of course, he wants to wear something with a monkey on it, which inspired the monkey hang tag on all the boys clothing. He also loves jeans. So I created the "Liam" jean just for him. It's the perfect cut, stylish, and comfortable. And I love the LM stitched on back pockets, which stands for Little Maven, but I tell him it's LM for Liam McDermott!"
Inspired by her new baby girl, Tori knew she wanted to take her girls' designs in a direction that was cute — but not too girly.
"I wanted to find the happy medium between dressing Stella too baby-girl-frilly and too sophisticated in style. It's adorable toddler mixed with Hollywood glam starlet!"
Items will retail between $24-$88.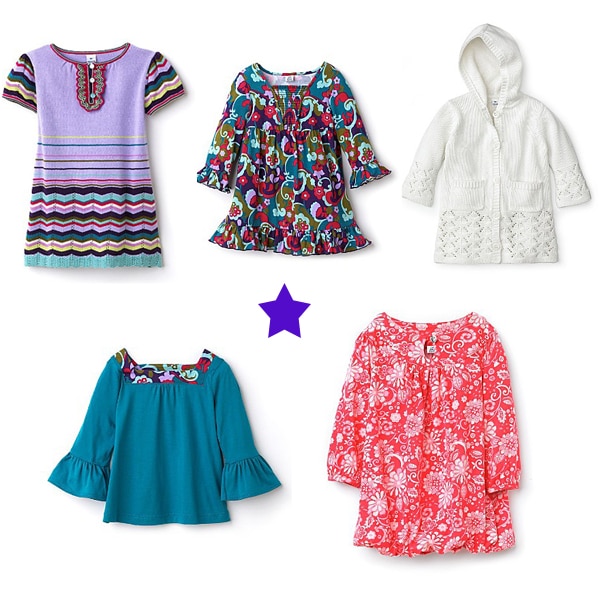 ---