It didn't feel like autumn in St. George, Ontario on October 24th. The small town banded together to create an early Christmas for a 7-year-old boy with an inoperable brain tumor who might not make it to the actual holiday.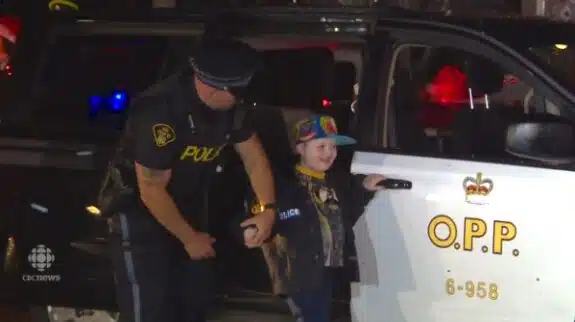 Volunteers even made sure that it was a white Christmas, with a movie crew blanketing the family's front lawn with fake snow and neighbors and local shop owners decorating their properties with lights and festive touches of red and green.
Doctors diagnosed Evan Leversage with an inoperable brain tumor when he was just two years old. An aggressive 18-month session of chemotherapy stopped his tumor's growth for a few years, but this past January Evan began losing movement on his right side, and the young boy went blind in one eye and started having issues related to his speech. An MRI showed that his tumor was growing rapidly again, forcing Evan to endure more radiation and chemotherapy treatments. This time the tumor didn't respond and with medical options exhausted, Evan's mom Nicole
Wellwood began working on a bucket list with her son, the middle child of her three young boys.
The top item on Evan's list was celebrating Christmas, so family and friends in St. George – a small town west of Toronto – started decorating and created an event on Facebook. That post caught the attention of the entire community, and quickly spread worldwide. Suddenly Evan was receiving cards and gifts from around the world, and his grateful mom says she's gotten letters of support from as far away as Belgium, the Netherlands and Jamaica. Evan even received a special card and gift from Canadian-born pop star Justin Bieber.
Wellwood says that the support Evan has received at home is "truly beautiful" and she's grateful to the people who have reached out to help her make special memories with her son. Luckily Evan is feeling well enough right now that he was able to enjoy the festivities.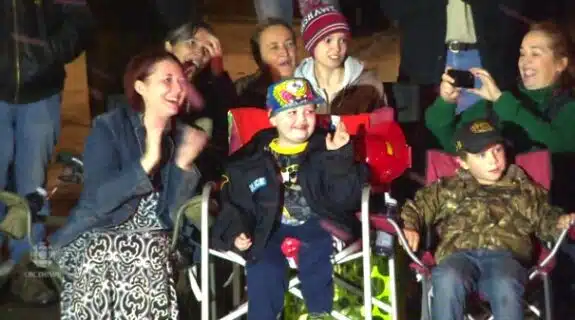 Those festivities were highlighted by Saturday's 25-float parade, with the procession making its way around the town center and young Evan beaming as he rode in a sleigh with Jolly Old Saint Nick. Even with temperatures hovering in the low teens, the parade drew about 7000 people who cheered as the young boy passed by. There were many more gifts to cap off Evan's day, including a full firefighter's costume and helmet presented by local rescue workers.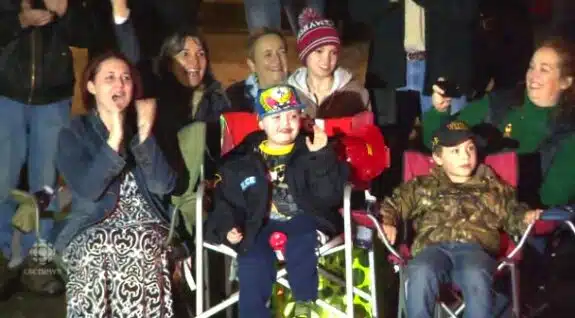 Neighbor Ken Harber is proud of a community that has come together to give this young boy a special, if early, Christmas and believes that it shows what an impact Even has had on the small town. "It certainly shows that there are an awful lot of good people out there," Harber says, "and that Evan has touched our hearts immensely."
Few will forget how Evan's eyes grew wide with amazement when he saw what the town had done to bring Christmas early for him. His mother says that she "hopes people believe in miracles. It's humbling to know that a small community has proven how extraordinary people are."
In a dark time for one family, a caring community exemplified the true spirit of Christmas to bring tidings of comfort and joy to a deserving child.
---