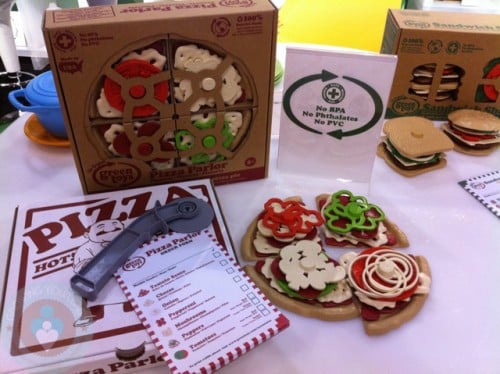 I love everything about Green Toys!  They are a California based company that creates products for families that are free from any BPA, PVC, phthalates, or external coatings. Plus they are Dishwasher safe.
New for 2011, the company has introduced quite a few items that will be a hit with the whole family.
Building on their play cook wear collection, Green Toys has debuted a sandwich shop and pizza parlor pretend play food sets.  Designed with a bit of a twist, the ingredients for both sets feature a center notch that keeps the food in place and allows kids to stack efficiently.
The Pizza Parlor comes with everything needed to create the perfect pizza pie including 4 pizza crusts, 20 pizza toppings (4 sauce, 4 cheese, 4 sets pepperoni, 2 sets mushrooms, 2 sets onions, 1 green pepper, 1 red pepper, 1 red tomato, and 1 green tomato), pizza cutter, Pizza Parlor order forms, and pizza "delivery" box. Take out or deliver this Good Green Fun™!
The sandwich shop is a 15-piece, stackable, mix-and-match play food set comes with all the fixings to create two complete sandwiches. Each realistic part is made in the USA from food-safe, 100% recycled plastic milk containers. All of the pieces are interchangeable with other Green Toys stacking play food products and it fits on Green Toys kitchen sets. The set includes two bread slices, bun top and bottom, burger patty, fillet, two cheese slices, lettuce leaf, tomato, two sets of onions, one red pepper, one set of pickles, and Sandwich Shop order form.
For bathtime or fun at the water table, Green Toys has creating a cool set of stacking cups. These six graduated cups offer dozens of possibilities for bath and play time. Scoop and pour water, build towers by turning upside down, or just sort sizes to nest. The My First Green Toys™ Stacking Cups are colorful and fun, and teach basic counting and math concepts. Each cup is numbered on the bottom from 1 to 6 and is volumetrically accurate. Fill cups 1 and 2, for example, and it will equal the volume of cup 3.
Building on their popular line of trucks, Green Toys will be soon launching their set of Race Cars!
Built in the USA from 100% recycled plastic milk containers that save energy and reduce greenhouse gas emissions, this sleek racer will tear up the track without harming the planet. This cool hot rod is better than any hybrid, and proudly displays the #2 recycled plastic symbol from which it is made on its hood. The ultra-eco design has no metal axles. No BPA, PVC, phthalates, or external coatings. Available in red, blue, or pink.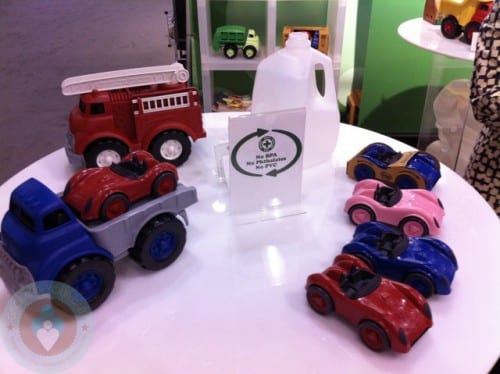 Green Eats is a complete new line of dishwasher safe, eco-friendly tablewear for the whole family. Perfect for the cottage, a picnic or everyday use, this collection is designed to be used with real food. Made from 100% recycled plastic milk containers, which save energy and greenhouse gas emissions, the whole collection puts your mind at ease as it is ultra-safe and has no melamine, BPA, phthalates, PVC, or external coatings. Best of all it's reasonably priced.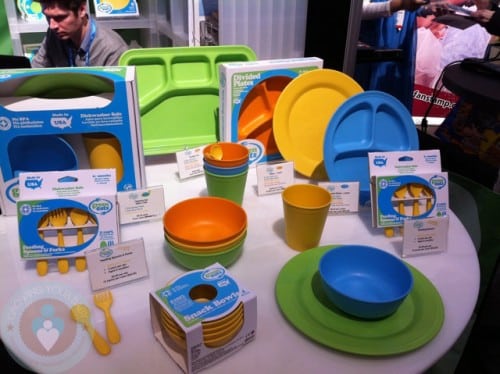 Related Articles:
---
[ad]