There is always a lot happening at Mega Bloks and it is apparent the designers at the Canadian company have been very busy this year. I had the chance to tour their showroom while in New York City for Toy Fair and there is a lot of great toys coming for little builders!
Heck, before I even entered their booth I was having fun…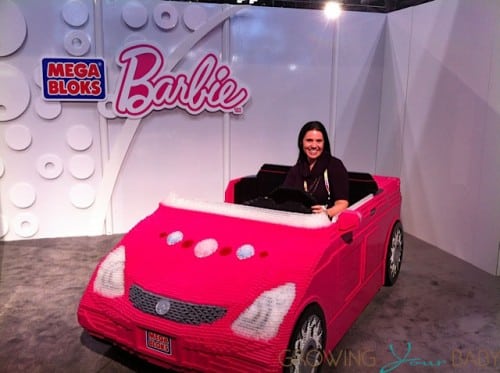 We are super excited about Billy Beats Dancing Piano. He's a musical friend plus, kids can build off his keyboard or hat and then store all the pieces in his body when they are done playing. Musical blocks that can be placed on his hat show the corresponding keys to some popular songs. Kids can also play their own songs or have Billy teach them a couple new ones! $39.99 (Available Fall 2013)
If you are like us then you have a million Mega Bloks and limited space to build. New this Fall Mega Bloks will be selling a Giant Play Table exclusively at ToysRUs that is wooden with a 4 panel grid for little builders. There is lots of space underneath for storage and more room on top to create for hours. $99.99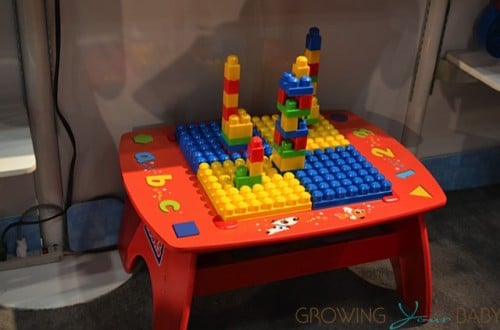 Firetruck Finn has a super fun swivel and pivot ladder to facilitate putting out fires. You child can steer Finn to the rescue with the help of his fireman figurine friend as well as build and store its included blocks in the back of the truck! $29.99 (Available Fall 2013)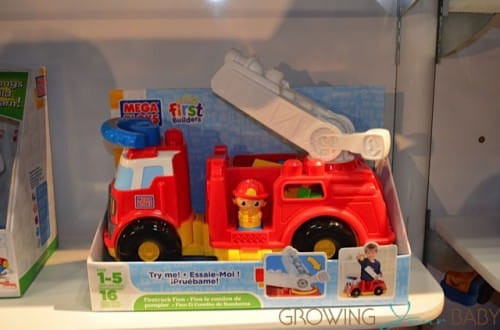 Mega Bloks Lil' Princess Unicorn stable tub features 85 bright and sparkling First Builders Blocks! The multicolor sparkling blocks create the perfect stable for your little one's princess friend and her 2 magical unicorns. When princess playtime is over, blocks are easily stored in the large tub. Combine with other Mega Bloks Lil' Princess buildable playsets to continue your little one's adventures! $44.99 (Available Fall 2013)
Also look for Mega Bloks to introduce a pink version of their popular Building table called Lil' Princess Fairytale Forest Table. Sparkly pink blocks are combined with fairies and unicorns to create a set that will be a hit with little ones. Parents will like that everything stores under the 4 panels and the legs fold under for easy storage! $44.99 (Available Fall 2013)
Boys are not left out with the new play tables. Mega Bloks has teamed up with CAT Construction to create the Cat® Ultimate Construction Site. This 3-in-1 buildable play table and special CAT themed blocks, lets your child build construction zones complete with CAT Construction crane, worker and vehicle. It can be brought everywhere and unfolds in a snap, acting as both a building platform and practical storage container. The CAT Ultimate Construction Site comes with CAT construction stickers to create an exciting construction scene, plus a fun construction buddy and tough Lil' Dump Truck. $44.99 (Available Fall 2013)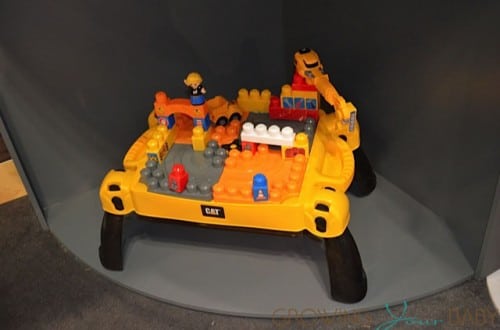 Your little 4×4 fan can take his imagination off-road and ride with the legendary Jeep Ride-On by Mega Bloks! The Jeep Ride-On features iconic colors and design, with easy push-button controls that mimic real Jeep sounds and create an exciting ride for kids. The high-back seat turns the Ride-On into a walker that can easily be pushed from behind. Open the seat to reveal a storage compartment that can hold all 10 First Builders Jeep-themed blocks and more!
This Fall Mega Bloks will introduce 3 new Thomas the Train sets; Thomas Deluxe Duffle Starter Set, Percy at the Wash Down and Thomas Visits the Castle. Mix and matchable with their present collections, the castle and the starter set will come in a PVC-free, non-woven duffel bag for easy storage.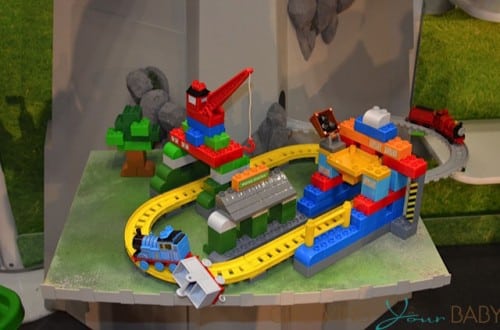 Look for the world of Hello Kitty to expand with the introduction of a Tree House($19.99), Beach house($29.99) and a super cute cruise boat($49.99)! Hello Kitty is living the life of luxury and now your kids can join her.
Also living life to the fullest is Barbie! Last year she moved into a new mansion, this year she gets a new glam studio, a horse stable and becomes a rock star!
And… as I was leaving the booth the Power Rangers walked in so I had to take this picture with them for my 4 year-old son because I'm a geek…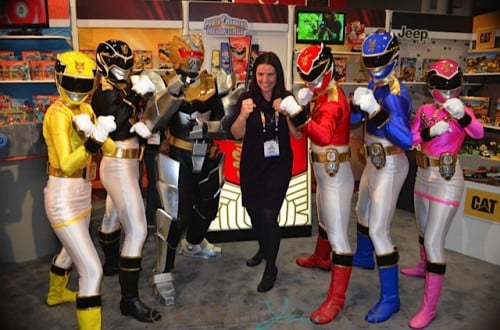 ---
---
[ad]