Barbie will be moving on up later this year with a new DreamCamper, Dreamtopia Castle and a fun new interactive Dream Horse!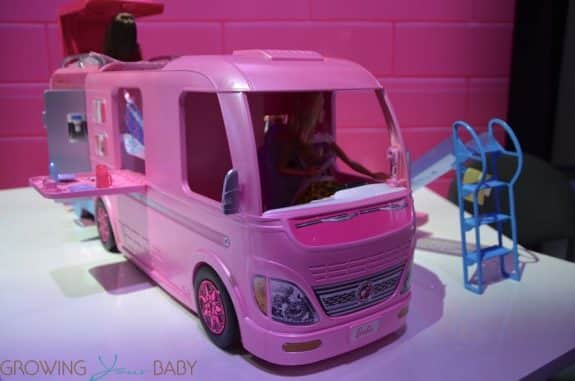 As always there is a something for every Barbie fan in the new collection and lots of great new ways for kids to play with their favorite dolls.
Barbie DreamCamper
The new Barbie Dream Camper($89.99 Fall 2017) transforms from a camping RV to a glamping play set with room for Barbie and 3 of her friends to sleep.  A button on top activates the magical pop-out feature that expands the set to more than 2 feet long.The side opens to reveal a pool with water slide. A bathroom fills the back of the camper with a toilet, sink and shower with curtain.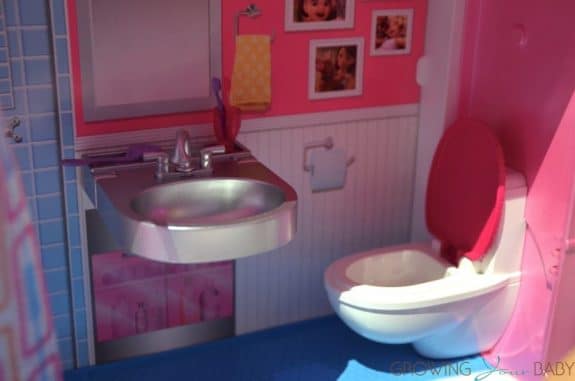 There's a full kitchen on the back side.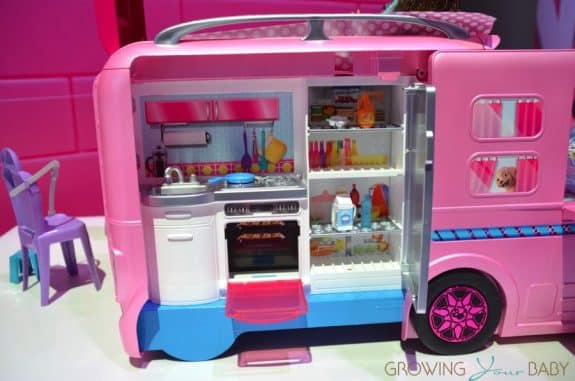 Barbie On-The-Go
Barbie is On-The-Go this year with a new track set that features a smaller scale and unique motorized concept.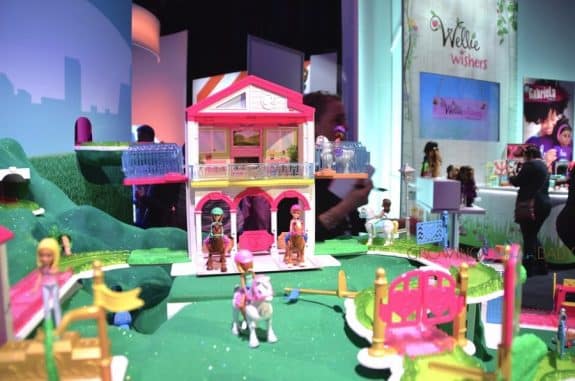 The compact dolls come with articulated joints to allow them to sit in a vehicle or ride a pony.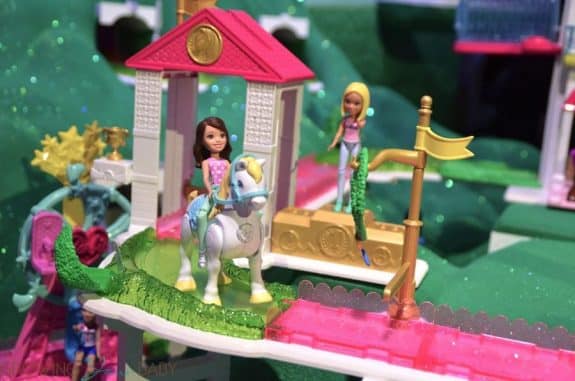 Kids can follow along as Barbie make her way through the town or ranch.  She's not the best driver on the road so watch for her to knock over signs or bridges.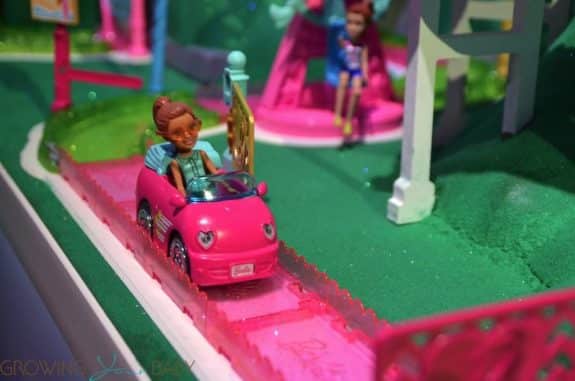 Barbie and her DreamHorse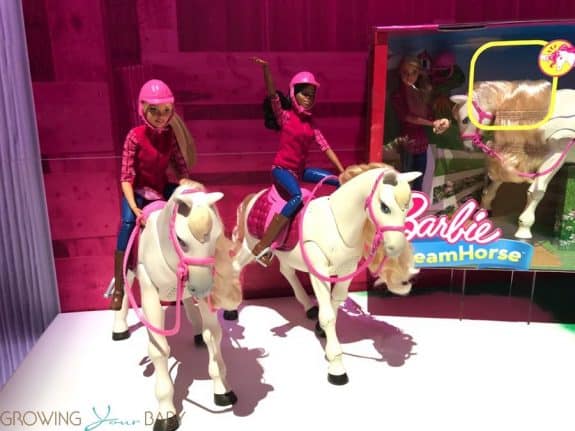 The newest addition to the Dream World line is the Barbie and her DreamHorse set. This new horse, not only features sounds and motion, but also interacts with kids through touch and sound sensor reaction. The horse can walk and turn 360 degrees or neigh and feed (a bunch of carrots are included).  It nuzzles in response to touch and nods yes or no when you ask a question. It also plays songs and dances.
Check out the video below!
Dreamtopia Sweetville Castle
This Fall you can join Barbie® for some sweet fun in Dreamtopia Sweetville Castle($99.99).  Each room in this colorful two-story royal home has eight distinct play spaces for all kinds of storytelling.  Barbie and her friend can move between floors with stairs on one side and a fairy elevator on the other. The second floor has a bedroom with a bed that ensures sweet dreams and a removable pool to expand the possibilities for fun.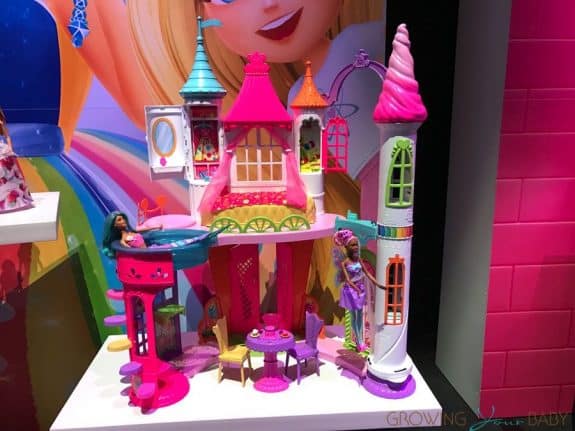 Barbie Newborn Pups Pet Assortment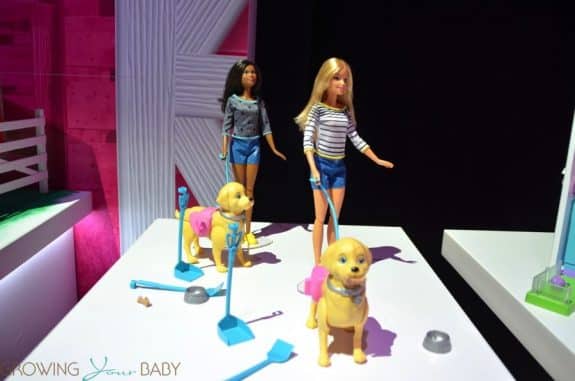 Barbie's dog is having puppies!   When you push down on the dog's back and out come three puppies.  Kids can then use icy water to open puppies' eyes and reveal a colored heart to see if it's a boy or girl!
Once the puppies have arrived kids car take care of them in the Barbie® Pet Care Center.  This playset opens to reveal four distinct areas for pet care play(check-in, x-ray, nursery, grooming) with fun features, realistic backdrops and accessories.  There are four pet patients ready to see the doctor — a puppy, a cat, a kitten and a hamster.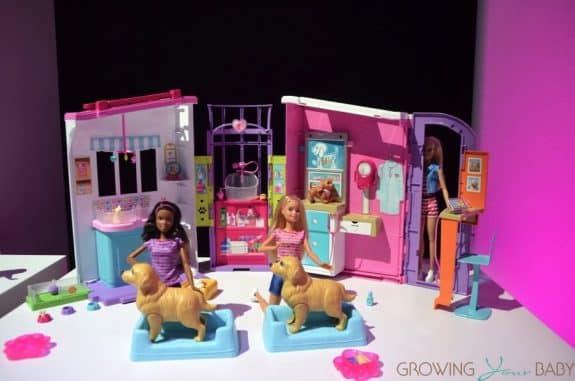 Barbie Careers Dolls
We already know Barbie can do anything, but this year she's aiming for the top!  Each doll wears a career-themed outfit and comes with an accessory that enhances storytelling:
Explore careers in science and medicine with an eye doctor, pet vet and scientist.
Try your hand in the arts as a popstar
Go for the gold with athletic professions, like ice skaters or a lifeguard
Sweeten the world as a cupcake chef or as a farmer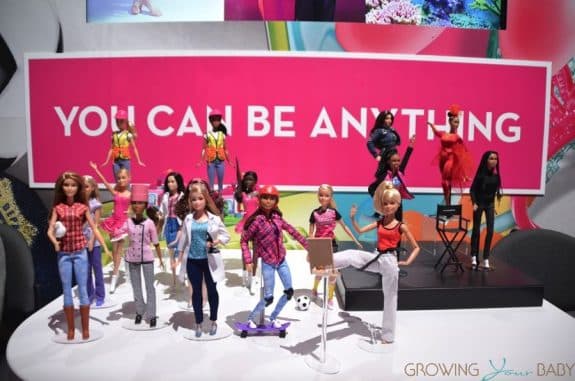 ---
[ad]