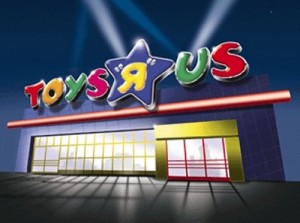 Patient Canadians who have waited through 2 US Toys R Us Great Trade In Events will be happy to know that it's our turn!
In an effort to rid Canadian homes of potentially dangerous children's products, Toys "R" Us has launched a program allowing Canadians to return old gear in exchange for a 20 per cent discount on new products.
Company spokeswoman Liz MacDonald said the main motivation behind the program is to raise awareness on recalls and safety regulations.
"Really, we want to let parents know the products they have might not meet safety standards anymore," MacDonald said.
The "Great Trade-In" will run from May 28 to June 11 at all stores across the country. Throughout the program, customers returning used cribs, strollers, car seats and travel systems at any Toys "R" Us or Babies "R" Us will receive a coupon entitling them to a discount on a new product from the same categories. Coupons can be transferred to a friend or family member, and can be redeemed any time during the two weeks.
The Toys "R" Us trade-in was conceived at a store in New Jersey.
When the American campaign was being launched in August 2009, a company spokeswoman said the initiative was a response to the fact that recalls of children's products in the U.S. often draw return rates of less than 30 per cent.
During the first event approximately 55,000 used items were returned.
Since January 2008 there have been 15 crib and bassinet recalls involving over 1.5 million units. It is difficult to assess how many of these products remain in households, since companies are under no obligation to release statistics on how many repair kits or refunds have been issued.
The number of second-hand items still in circulation, coupled with constantly changing safety regulations, is also adding to the amount of potentially hazardous children's products still in Canadian homes, Ms. MacDonald said.
"Some of the products we were selling last year aren't even up to code any more," she said, adding it's easy to understand any reluctance toward throwing away strollers or car seats that appear to be in working condition.
Toys "R" Us said it will be taking steps to ensure returned products don't find ways into new homes.
"Returned items will be identified as soon as they come in, then they will be broken down," she said. "And whatever is recyclable will be recycled."
SOURCE
---