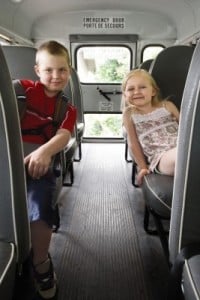 For some kids, this will be their first year in school. Others will be returning, hopefully to a new class, new teacher and new grade. Some will walk, some will ride the bus, some may ride a bike and still, some will ride with mom or dad. No matter how your child gets to school, it is important that they are safe on their way to and from school. And, as the days of returning draw near, now is the perfect time to prepare yourself and your child for back-to-school transportation safety.
Liza Barth, publisher at Consumer Reports published a great transportation safety checklist for children returning to school. The following tips were provided by this article. You can find the source in a link at the bottom of the page.
If kids are walking:
Map out a safe route to school and walk it with your child for a few days so they become familiar with the way.
Make sure your child crosses at the intersections where there is a crossing guard.
Have children wear bright clothing that can be seen by drivers.
Start a neighborhood school walk by having a parent accompany a group of children to school. Take turns supervising, allowing others to rotate the chaperoning duties throughout the week.
Riding the school bus:
Check to see if the school bus has lap and/or shoulder belts and if so, make sure your child uses them at all times. If no belts are available (which they often aren't), make sure your child knows to stay seated when the bus is in motion.
Tell your child to wait for the bus to stop completely before trying to board or exit.
Teach him or her to look both ways before crossing the street.
Make sure children are aware that they need to remain in clear view of the bus driver when moving around the bus.
Children should only board and exit the bus in areas that are safe and/or close to the school building.
Riding or driving in the car:
Obey the local school bus laws. It is illegal to pass a stopped school bus when its stop signal is extended. Each state has its own rules for the distances you must keep between a following car and a bus, and those distances might be much farther than you think.
All children should wear a seat belt or use an age-appropriate car seat or booster seat. Check the car seat laws on car seat use in your state. Some states require that booster seats for children as old as eight.
All children under 13 years of age should ride in the rear seat of vehicles.
If you have a teen driving to school, make sure they drive safely by using a seat belt at all times, limit the number of passengers, and set rules on distractions in the car such as no calling or texting behind the wheel.
Learn about graduated licensing laws in your state or institute your own rules for your teen driver, such as limits on nighttime driving.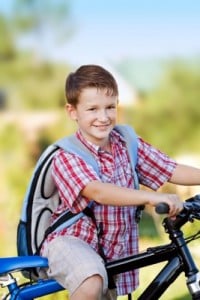 On a bicycle:
Make sure your child always wears a bicycle helmet.
Teach them to ride in the same direction as traffic, on the right side of the road.
Show your child the appropriate hand signals for turning.
Explain the 'rules of the road' – obey stop signs and traffic lights.
Put your child in bright clothing to increase visibility to drivers.
Related Articles:
---