Parents who are constantly on the go often find hotel baby beds uncomfortable or inconsistent. Will it be the tiny wooden crib or a pack-and-play?
Having your own travel bed gives you peace of mind when you are traveling or out at a friend's house.
I always keep mine in the back of my truck just in case we end up somewhere and can't get home for naptime. We have used ours at the beach, park, and at grandma's house. While on vacation, we would set it up poolside so that our older son could still play while the baby was sleeping in the shade.
We have listed 6 of the best travel beds on the market. The first 3 are great for infants straight up to toddlers, while the bottom 3 are only recommended for infants.
All 6 assemble quickly and can be stored easily.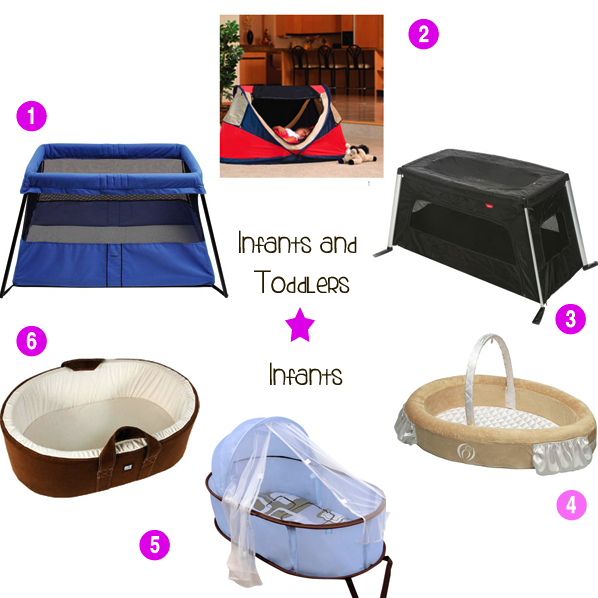 Babybjorn Travel Crib Light – Weighing less than 11 pounds including the case, the Babybjorn® Travel Crib Light is easy to carry and transport, making it the perfect crib to take with you on trips. Soft fabric makes it snug and cozy for your child. Both the bed fabric and waterproof mattress cover can be machine-washed. When not in use, it folds up compactly in its case, making it as convenient to carry as an ordinary bag or suitcase. $250
PeaPod Plus Travel Bed – For short trips across town when naptime nears or long cross-country vacations, the PeaPod Plus becomes your child's own portable bedroom. And it's so lightweight even your child can carry it. The inflatable air mattress helps protect from cold, hard surfaces (inside or out) and provides a comfortable place to sleep or play. Great for outdoors because of its UV protection and adjustable windscreens. Sleeping bag unzips completely to form a one-piece sleeping pad.$90
Phil and Ted's Traveller – This incredibly lightweight (5.6lbs without mattress) is a Playpen & sleep solution all-in-one. It features a self-inflating mattress and a simple quick assembly. Made for newborns up to 3 years $190

LulyBoo travel bed

– Travel in style with LulyBoo's soothing, camel play lounge. Sophisticated, smart and cozy, LulyBoo's plush, heart-design fabric surrounds a flexible foam interior. The lightweight bed folds up to a convenient backpack, so parents can take it with them wherever they go. With four outer pockets to hold all of the baby's supplies, there is no need for an additional diaper bag, so travel with baby is a breeze. The product also comes with a coordinating toy bar, has waterproof underlining, is machine washable, and is safety tested and approved.$120
Kushies Easy Fold Baby Bed – This folding bed is great for indoor or outdoor use and is perfect for traveling. Made of lightweight fabric, this folding bed fits in a standard suitcase and is perfect for keeping your baby safe and secure when away from home. The UV-protected fabric keeps baby safe from the sun when outdoors and the padded liner keeps the baby comfortable. It features an easy pop open and fold-close design for added convenience and easy storage. Three loops under the canopy are ideal for hanging baby's toys. 0-12 months $70
Lalapanzi Large Travel Bed – The luxury option features soft side walls and an oval shape that simulates the mother's womb. Ultra-soft fabrics are chosen for the inside to enhance warmth and coziness. At only 5 pounds, the Lalapanzi Bed™ is lightweight and its sturdy carry handles makes it easily portable. $220
Related Posts: