As the mother of four children, I have tried numerous baby bathtubs in an effort to find the one that works best for my babies, and is convenient and easy to use for me. Every infant tub I have tried has left something to be desired. But recently, my luck changed when I received the TummyTub to use with my newest baby — and I really wish I'd had this tub from the very beginning of my baby bath giving days.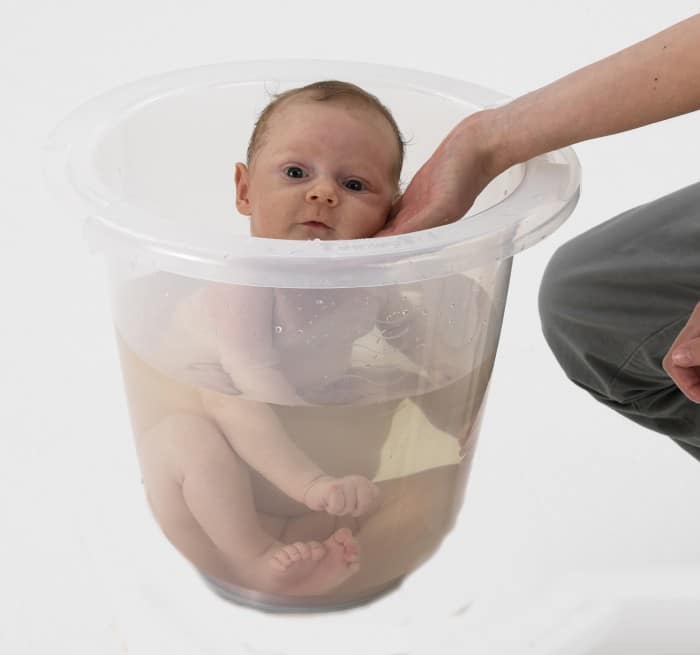 When my first child was born, we lived in a small apartment, and since space was an issue, I bought a foldable tub… but it leaked. Next, we tried a small tub, but my giant son outgrew it in no time. The inflatable tub insert was bigger, but way too inconvenient to deal with. After we moved into our house, we bought a tub that we hoped would hold our giant boys until they could move into the actual bathtub. However, it is huge, requires tons of water to fill it up and is nearly impossible to empty without making a mess. Additionally, it took up way too much space no matter where we tried to store it.
The TummyTub solved all of these problems at once. Designed to provide a womb-like experience, the bucket like shape of the TummyTub is meant to make babies feel at ease, calm and secure while being bathed. The TummyTub is a compact, lightweight tub that uses very little water, it is easy to transport without sloshing or strain, is made of phthalate, BPA and lead free polypropylene, and is easy to store between baths. I've only used the TummyTub to bathe my 2 month old, but it can supposedly be used for children up to 35 pounds — and may then be used for toy storage, making it doubly convenient.
We first tried the TummyTub with my daughter several weeks ago, and we quickly decided to replace her huge tub with the cute little TummyTub permanently. Instead of looking quite adrift in the tub we had used for her brothers, she seemed quite secure and comfy. She was able to push up a bit with her legs, but after a few moments she settled in and just smiled. She seemed to enjoy herself, and we finished bathing her in half the time. Using less water is great, and so is being able to give her a bath on my own, without assistance. I can't lift our other tub when it is full, but the TummyTub is super easy to move. I can carry it one handed, and the high sides prevent all of the puddles we usually have getting the tub back and forth from the sink to the table. The smaller size also means we don't have anyone else trying to climb in with her, throwing things in for "science experiments," or the usual accompanying mess.
In addition to the Original Clear TummyTub which we received from TummyTub USA, there is a Green, Sparkly Sparkling Pink or Blue model. Also available is The TummyTub Two-Step Stool, which may be used to raise the tub up to a height that makes it possible to sit comfortably in a chair while bathing the baby. The Two-Step Stool, which comes in three colors: blue, pink and green, may also be used later as a step stool and features a handy storage compartment.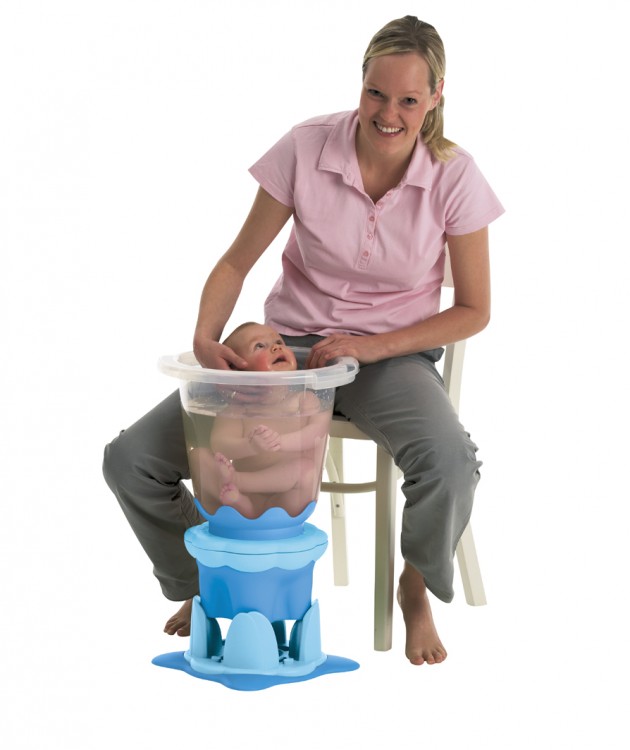 The website www.tummytubusa.com provides more details about the potential benefits of the tub's design as well as the history of the tub's origins in The Netherlands. Here you will also find links to retailers that carry these terrific tubs. The TummyTub is a great addition to any household with children. It is convenient, easy to use and comfy. You couldn't ask for more in a tub. – Kiersten, Staff Writer
*Thank you to TummyTub USA for sending us this tub for review*
---