The anguish of migrants fleeing the Middle East and seeking asylum in Europe has made for some dramatic scenes. More than 680,000 refugees have crossed by boat into Europe and nearly 3200 have drowned or disappeared while attempting that perilous journey.
In September, the grim reality of that migration was on display when the body of a small boy was photographed after it washed ashore on a beach in Bodrum, Turkey. Young Aylan was pictured lying face-down in the sand at the water's edge, his small body clad in a red t-shirt, blue pants, and black shoes. News sites worldwide carried the photo that captured a tragic end to a flight to freedom.
Now a video of a remarkable rescue at sea is making happier news. The footage was taken in the Aegean Sea, just off of the coast of Kusadasi, Turkey, where on Wednesday a boat carrying Syrian migrants capsized and spilled its cargo of refugees into the icy waters. Fisherman working nearby rushed to their rescue, finding a total of 15 people alive and pulling them to safety into their boat.
According to one of those fishermen, Cenap Gumren, the migrants were speaking in broken Turkish and telling their rescuers there were more people in the water, including some children, and begged the fishermen to go and find them. In a confusing scene with everyone crying and talking over each other, the fisherman immediately began searching the waters for other survivors.
Gumren spotted what he thought was an empty life vest floating some distance away, but thankfully decided to check it out. As they closed in, they realized the vest was supporting a baby – and all assumed the child was dead. Gumren told CNN that "when we got closer to him we heard his moaning."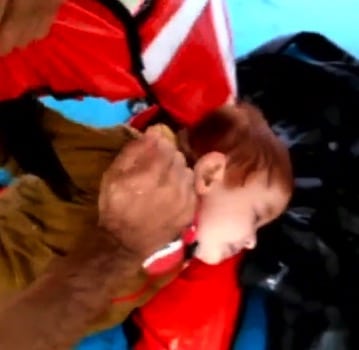 One of the men is shown pulling the child – a baby boy – out of the water and stripping off the life jacket, then alertly turning the child over and upside down in an apparent attempt to clear water from his lungs. As he wraps the infant in a blanket, his joyous shouts ring out over the water. "Brother, he is alive! He is alive! My God, he is alive!"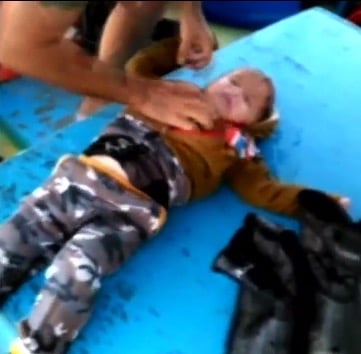 18-month-old Mohammad survived his ordeal and is doing well. Gumren later went to visit the boy and says he was "healthy and crying, wonderfully ordinary. It was such great joy."
The baby's mother Lorin Hanif thanked the fisherman for saving her son. "You gave him a new life," she told them, "May God bless you."
---
[ad]