A UK mom in her twentieth week of pregnancy was given the devastating news that her twins would not survive because her placenta was leaking and one of her babies had a heart problem. Preparing for the inevitable miscarriage, both the parents and the doctors were surprised when one twin positioned herself in such a way in the womb that it helped save her sister's life and the pregnancy.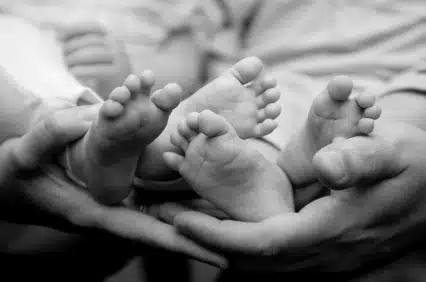 39 year old Andrea Goodrich and her husband Paul, 46 were looking forward to the birth of their twins they had already named Kiki and Nico.But at 20 weeks, the scans revealed something they had not expected.
Doctors noticed a strange halo around Kiki's heart and asked the parents to go to a London hospital for further tests.
'I was referred to a London hospital for further tests but within two days I'd started bleeding and doctors told us the placenta had ruptured,' she said.
Further tests not only found that Kiki had a heart problem, but Andrea's placenta had ruptured and water was leaking through the amniotic sac.
The news was not good. It meant an inevitable miscarriage as Andrea was only only 20 weeks pregnant.
'Paul and I prepared ourselves for the worst,' she said.
Then miraculously, another scan revealed that Nico who had a healthy placenta was lying directly underneath Kiki safely guarding her sibling.
"Amazingly, Nico stayed in that position. And it was a huge relief when we got to the 24-week milestone," said Andrea. "We knew every day that they stayed inside the womb meant their chance of survival was greatly increased."
At 30 weeks, 10 weeks after the tragic discovery, Andrea went into labor and delivered Nico and Kiki via emergency C-section. Nico was born first weighing 3lb 6oz, followed five minutes later by 3lb 1oz Kiki.
"Although they seemed tiny to me, doctors said they were both very good weights – all down to the fact Nico had managed to keep them inside for ten whole weeks," said the new mother. "Both girls went into special care but thankfully Nico was only in for six weeks and Kiki for three months.'
Tests also showed that Kiki's heart was absolutely fine.
'Doctors don't know what it was they saw on the scan,' her mother explained. 'But her heart has since developed perfectly normally.'
She says about Nico, "We truly believe she acted as her sister's guardian angel."
The twins are now seven months old and growing up fine. The couple have noticed how the sisters already share a special bond.
"They like to be able to always see one another and already make each other laugh,' said Mrs Goodrich. "And when they get older, we will tell both of them the reason they have such a special bond isn't only because they shared a womb but because before they were even born, Nico saved Kiki's life."
Related Articles:
---