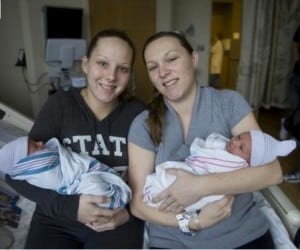 For twins Danielle and Nicole Fisher it was not unusual to share things in their lives from friends to birthday celebrations. But even they were not prepared for the surprise when both delivered baby boys on the same day in adjacent hospital rooms just 13 minutes apart.
Last Tuesday was a special day for both Danielle and Nicole from Clementon, N.J. The twin sisters gave birth to baby boys at Virtua Hospital in Voorhees on the same day. What was even more surprising was that the boys were born 13 minutes apart from each other when Danielle and Nicole had been born 12 minutes apart.
Says Nicole, "I just think it's the twin thing, it just has something to do with that twin communication."
Danielle was due with her baby last week and Nicole two weeks later. But even as Danielle gave birth to Jonathan at 7.43 am on Tuesday, Nicole went into labor in the adjacent hospital room and gave birth to Maximus just 13 minutes later.
"It was unbelievable," said the twins' mother, Lisa Fisher and a proud grandma to two baby boys.
The twins though say that their getting pregnant at the same time was not planned.
Danielle first broke the news of her pregnancy with her boyfriend, Corey Flanigan to the entire family.
Nicole and her boyfriend, Greg Woodman were not aware at that time that Nicole was also expecting.  Few weeks later when they did they decided to keep the baby news a secret for several months.
Danielle says, that when she finally found out that Nicole was pregnant she was excited and liked the idea that the two boys could grow up together.
The sisters also add that experiencing pregnancy together was fun.
They recall how one morning both got sick riding in a car together.
"Who gets to go through something like this with your twin sister?" Danielle said. "We have done everything together our whole lives."
Like many other twins, the sisters shared many things all their lives – friends, birthday parties etc. but both never imagined that they would also become mothers on the same day – especially when their due dates were weeks apart.
Danielle recalls how she was shocked to hear that Nicole was also admitted in the hospital when her water broke. Danielle was over due so doctors had planned to induce her on Monday.
The only difference between the twins though was that while Danielle was in labor for more than 20 hours Nicole delivered in just 20 minutes.
Lisa says she was the one panicking the most as she rushed from one daughter to another and informing them about each other's progress.
"I'm telling her, 'Your sister is ready too,' " she said.
The twins live together with their parents and therefore know that the two boys will also be sharing life growing up as they did.
When asked if they would like the shared spotlight for their children Nicole says,
"By now we're kind of used to it."
Related Articles: