Stephanie Edginston and Nicole Montgomery were born 3 minutes apart and have been 'in sync' with each other ever since. They went to the same college, we went to the same grad school and were part of the same sorority. They've often unintentionally dressed alike and even have the same job – speech and language pathologists.
Taking twin bonding to the next level, the New Jersey twins gave birth to their daughters just minutes apart – at the same hospital last Friday.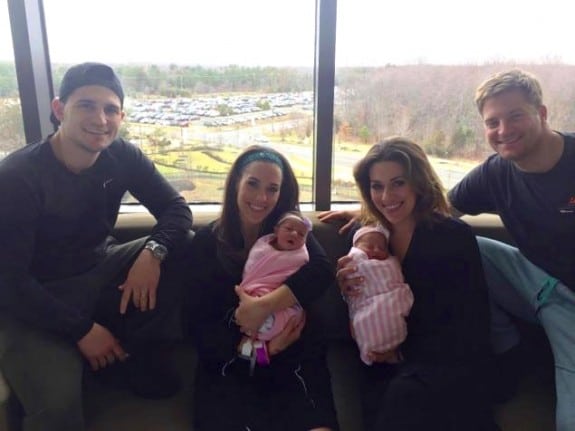 Stephanie, was due date on Feb. 5, but when she still hadn't gone into labor three days later, she booked a doctor's appointment for Monday morning.
An hour before she was scheduled to see her OB, she started to go into labour.
Her identical twin sister, Nicole, wasn't due with her baby until Valentine's Day, but when Stephanie was enroute to the hospital she learned her sister was in labour as well.
"We actually had a doctor's appointment today because we were due on Friday, so we got there and they were like 'you have to go to the hospital' and we get a call that Nicole and Rich are on their way, too," Stephanie said.
Convenient for family, they were also placed in rooms across the hall from each other.
When it was go time, the baby girls, named Cora and Louisa, arrived just 6 minutes apart.
Do they think their baby's same day arrival will give them a special bond?  Definitely!
---