In an extremely rare case of conjoined twins, a woman in India delivered twin boys that are joined at the head with a shared body. Doctors say surgery is not possible in the case though the infant may survive.
On Wednesday, a women in a small town called Tonk in Rajasthan, India gave birth to a rare set of conjoint twins where the baby boys have separate heads but share a single body from neck down.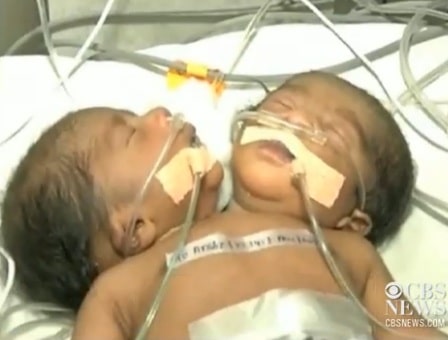 According to the doctors this is a rare condition called Dicephalic Parapagus.
Born to 24 year old Arsi, the babies were immediately moved to Jaipur's J.K. Lone paediatric hospital.
"They are inoperable and cannot be operated upon anywhere in the world," S.D. Sharma, Superintendent, J.K. Lone hospital, said. "We have constituted an expert team and they are examining the twins under my supervision to find out the possible course of treatment," he added.
The twins have a single heart, a single stomach with two food pipes, and two nervous systems.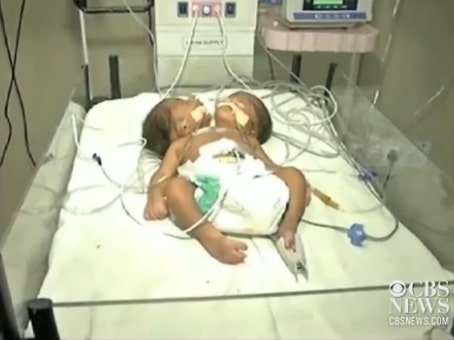 This is the third such case recorded in India and the first in the state.
Worldwide, it is a rare occurrence to have twins conjoined in such a way. Experts say that it is even rarer among boys as most such cases have been observed in girls.
A famous case of conjoined dicephalic parapagus twins include Abigail and Brittany Hensel from US. The girls have one broad ribcage with two fused sternums, two breasts, one liver, one large intestine and colon, three kidneys, one bladder, one set of reproductive organs, one pelvis and two legs.
In September 2011, two 11 month girls from Sudan who were conjoint twins with their heads joined together were successfully separated. Their condition occurs one in 2.5 million births, known as craniopagus twins.
In the case of the Indian babies, only 600 such cases have been reported in the past 500 years.
Doctors at the hospital in India are taking every measure to see that the twins survive.
---
[ad]