Contra Costa Fire officials reported a baby being born around 5:30 p.m on Thursday evening at the side of Highway 24. Though not much is known about this birth, officials say the mother had delivered a healthy baby while on her way to the Kaiser hospital in Walnut Creek. But this wasn't the only highway delivery this week! Tommy Elmesewdy had delivered his own son alongside that very same highway just one day earlier.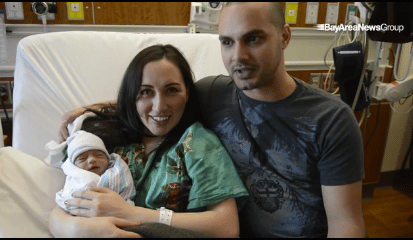 Tommy, a computer engineer, and his longtime partner, Sabrina Chung, thought they had plenty of time to get to hospital when Sabrina went into labor early Wednesday morning. But San Pablo Dam Road, a two-lane road that serves as a main artery connecting El Sobrante with Highway 24, had been crowded that day—so crowded that Sabrina's water broke before they even made it onto the highway.
As the couple made their way onto the highway's onramp, it started to become clear that their second child, Gabriel, wasn't willing to wait until his parents made it to the hospital. Tommy called Sabrina's doctor and then 911 to find out what he should do.
"We told [the doctor] that she was in labor, that the contractions were getting worse and closer together," Tommy told the Contra Costa Times. "He could really tell by what was happening, what was being said and what he was hearing, that we weren't going to get there on time."
With that realization, Tommy pulled over to the shoulder of the highway and then got out of the car to position himself for the impending birth.
"It didn't take very long at all," he said. "I just tried to help her to the best of my ability. I cupped my arms in position to make sure I held onto him. She pushed a few times, and here he was."
In fact, it all went so fast that Tommy says he barely remembers much of anything, other than how cold it was. That's why, immediately after he was born, Tommy placed Gabriel on his mother's skin, along with some clothes on top to cover him like a blanket. And, rather than cut it, Gabriel's umbilical cord remained untouched as they drove all the way to the hospital where nurses were waiting outside with a gurney.
"We just positioned it to make sure it wasn't choking him, and then he started crying, which was a great moment because it was a sign he was okay," Tommy said. "By the time we got to the hospital, that's when it really hit me. I can't believe this just happened. I can't believe I got to deliver my own baby. And nothing went wrong."
And for that, the couple couldn't be happier.
Of course, they'll also have a very wonderful story—and some bragging rights—in the years to come, as Gabriel gets older.
"We have a healthy baby. And we have an unbelievable story that we can tell forever," Tommy said. "It's like, 'Hey, I brought you into this world. I can take you out.' Only, I really did."
Related Articles:
---
[ad]