A baby girl who suffered two heart attacks – one while in utero and the other shortly after birth – is well on her way to recovery and is now being released to return home! Her story, which is nothing short of amazing, was recently shared on WGN News.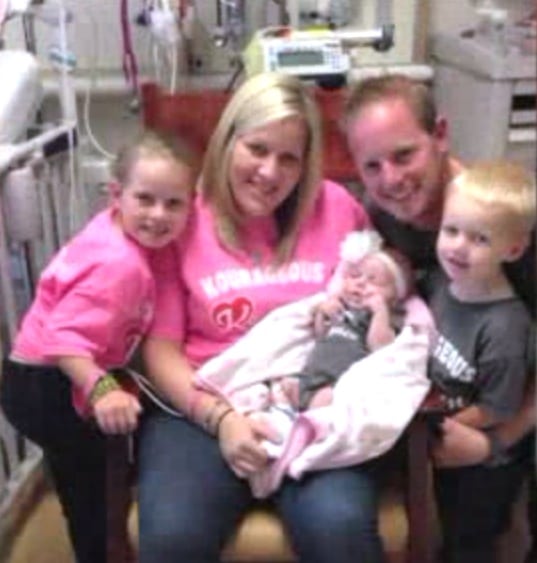 "I had no complications at all," Megan VandeWerken told WGN about pregnancy with her third child, Kaysen. "I was at the beach every day with my kids until the day before I had her."
Even the birth, which took place on July 26th, seemed pretty normal.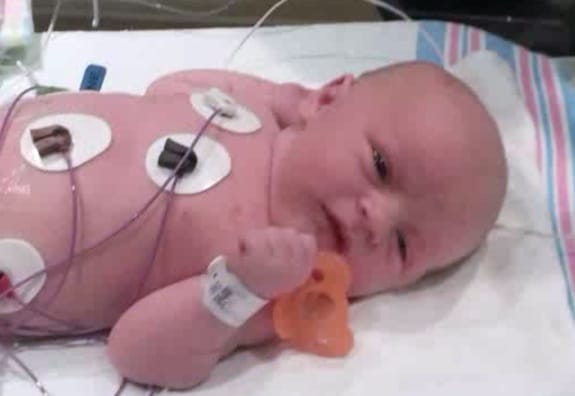 "I looked at her, and she was beautiful," Kaysen's father, Stephen VandeWerken told the News outlet.

"They said everything was great. We had no complications and we thought everything was fine," Megan added.
But then, within just minutes of birth, Kaysen started showing signs of heart trouble. The doctor who had delivered Kayson suggested a quick transfer to Lurie Children's Hospital.
"I stood there in awe," Stephen said. "He said the transfer team would be there in 25 minutes. My heart dropped. I didn't know what to do."
Thankfully, doctors did – and they'd made the right decision regarding Kaysen's care.
Soon after the transfer, doctors realized that Kaysen had suffered a heart attack while still in her mother's womb.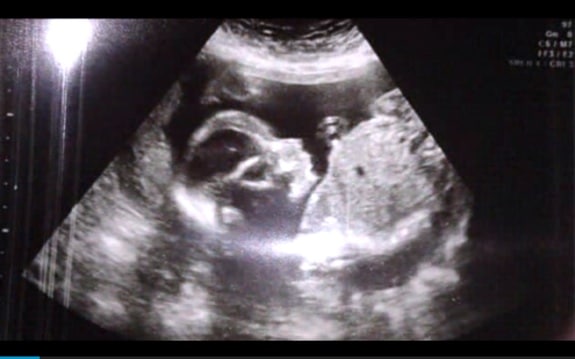 "Her electrocardiogram, her blood enzymes, everything suggested that she had a very severe insult to her heart, similar to an adult having a heart attack," Lurie Children's cardiologist, Dr. Elfriede Pahl said. "It was probably fairly recent before she was born, but we can't be sure."
Then, Kaysen had another episode of cardiac arrest – one that would ultimately leave her parents feeling helpless, and would make them wonder if she would ever come home.
"I don't know what you call it – a heart attack. They asked us to leave the room as they tried to control [it]," Stephen said. "I stood in the hall and watched the monitor go from 160 to 130 to 90, then zero. I watched them do compressions and shock her to get her back and they got her stable."

"This is an echocardiogram, which is an ultrasound of Kaysen's heart. The heart reat is much too fast, and the heart muscle itself is barely squeezing and really not able to pump out blood to the body. This is a sign of severe heart failure," Pahl explained about Kaysen's condition at the time. "Soon after this is when her heart stopped completely and she needed to go on ECMO."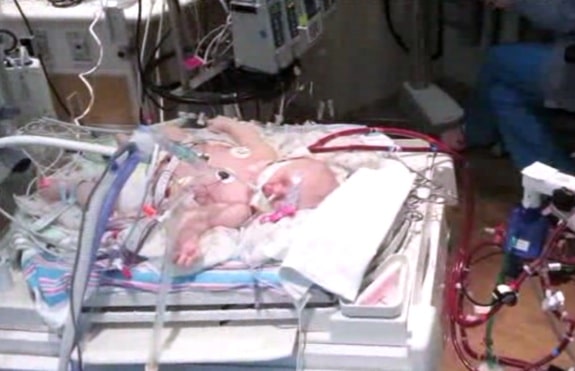 ECMO is a type of life support – one that takes over the work of the heart and lungs. Kaysen was hooked up to the huge machine in a matter of just 17 minutes, and there she would stay for several more weeks. But there was more bad news to come.
"Later that week, they said they didn't think it was going to get any better and that we had to get listed for a transplant," Stephen said. "I went home with the other two kids and Megan stayed here [at the hospital] and we thought that was normal life. Then we got the call. It was a big day."

"Getting a phone call normally isn't a good thing and that's when she told me Kaysen was going to get a heart," Megan said.
Kaysen had spent exactly five weeks and one day on ECMO when she'd received her heart. Within just two weeks after the transplant, she's making amazing gains and is nearly ready to go home.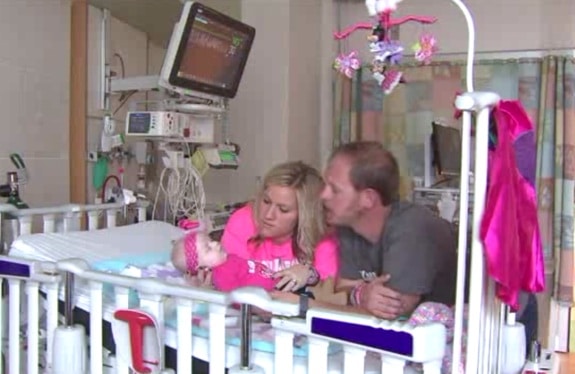 "She came off the ventilator quicker than they had said," Stephen said. "They said it would take three weeks to come off the vent and then seven days later they extubated her and, to this day, she is breathing on her own and doing good."
Even Dr. Pahl is amazed at how well Kaysen is doing.
"Usually as long as a baby waits for a transplant is about how long it takes to get them out of the hospital," Pahl said. "So I would have expected it to take about six weeks to get ready to go home, and she's only about two weeks out from transplant at this point. She's had a great recovery."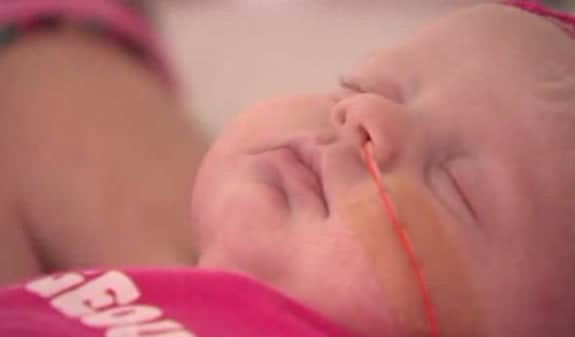 And, thanks to the improvement in infant heart transplant technology, Kaysen should do very well for a very long time. In fact, more than half of all infants who receive transplants can expect their hearts to last 20 years or longer.
We are excited to hear about Kaysen's upcoming return home and wish this wonderful family the very, very best.
Related Articles:
---